Komatsu


Komatsu : Used construction equipments from Komatsu
Dealerships, Distributors, Traders & Sellers Komatsu
Other sellers Komatsu
Ou-Yi Machinery Co. ltd

45 ads

BAUMA Vermiet- und Handels GmbH

14 ads

Bosch Baumaschinen GmbH

13 ads

Mpmaquinas unipessoal lda

13 ads

AN INTERNATIONAL BV

13 ads

Goosmann Baumaschinen GmbH

11 ads

SWENSKA POWERHOUSE

11 ads

Desguaces Casquero

10 ads

LUPHER Spółka Jawna Import-Export Maszyn i Urządzeń Budowlanych

9 ads

STRIMAK Baumaschinen & Kfz GmbH

8 ads

CHOGI Mariusz Chodorowski

8 ads

AERTSSEN TRADING NV

7 ads

MEURRENS MACHINERY NV

5 ads

Obra Pública y Agroindustrial, SL

5 ads

EGC Parts Baumaschinen Demontagen UG (haftungsbeschränkt) & Co. KG

4 ads

LANGUEDOC MATERIELS

4 ads

Baumaschinen Puntigam GmbH

4 ads

Olkop Hurtownia Olejów i Paliw Gabriel Kropkowski

4 ads

Golec Nutzfahrzeuge GmbH

3 ads

BERGERAT MONNOYEUR FRANCE

3 ads

STELLMANN BAUMASCHINEN AG

3 ads

Procar comércio de automoveis maquinas e camioes lda

3 ads

MAQUINARIA BOLDOBA SL

3 ads

LEEIJEN TRADING B.V.

3 ads

GEST LEASE INGENIERIE

3 ads

MAQUIDEMOLEX ESPAÑA S.L.

3 ads

KM MASZYNY BUDOWLANE

3 ads

RIVERLAND EQUIPMENT

3 ads

procida macchine srl

3 ads

Kiesel Worldwide Machinery GmbH

3 ads

Materiales De Construcción Alborea, S.L.

3 ads

Ascendum Maquinaria S.A.U.

2 ads

ALGA Nutzfahrzeug- und Baumaschinen GmbH & Co. KG

2 ads

Abrantes Almeida e Simoes Lda

2 ads

GUAINVILLE INTERNATIONAL

2 ads

NUOVA EUROMACCHINE S.R.L.

2 ads

H ET S NUTZFAHRZEUGE

2 ads

ÁRIDOS EL ROBLEDO, S.L

2 ads

ROAD CONSULTING Sas

2 ads

MERKANTIL Export-Import GmbH

2 ads

VAN HAVERE BOUWMACHINES

2 ads

Simex Baumaschinenhandel GmbH

1 ad

Fischer u. Schweiger GmbH

1 ad

Infa Nutzfahrzeuge GmbH

1 ad

O.B.M. Baumaschinen-Gabelstapler Handels- und Vermietungs GmbH

1 ad

Autopark A5 Nutzfahrzeuge Rossol

1 ad

MARINO CARRELLI ELEVATORI

1 ad

AUTOPALAS VALLADOLID, S.L.L.

1 ad

MJC TRUCKS & MACHINERY BVBA

1 ad

Equipos Bergantiños, S.L.U.

1 ad

BERGERAT MONNOYEUR POLSKA Sp. z o.o

1 ad

Valdemar & Filhos, Lda.

1 ad

Bellator Maszyny Budowlane Sp. z o.o.

1 ad

ECOGLOBAL D INVERSIONS 21, S.L.

1 ad

MACHINERY RESALE BVBA

1 ad

Tranalem Europa S.L.

1 ad

Troostwijk Veilingen B.V.

1 ad

Adamex Spółka Jawna A.K.W. Kosowscy

1 ad

F.lli Zenzalari s.n.c.

1 ad

AUTO TRANSPORTADORA MODERNA PORTUENSE SA

1 ad

Grzegorz Zyguła PRZEDSIĘBIORSTWO USLUGOWO HANDLOWE

1 ad

Talleres Dozer 2000 SL

1 ad

PC MACCHINE MOVIMENTO TERRA

1 ad
---
Komatsu is a company created in 1917 in Japan that specialises in construction equipment manufacture such as compact or hydraulic excavators, loaders, backhoe loaders or track dozers. They export, for the first time, their track dozers internationally in the 60s and have become leaders of this market. But Komatsu also manufactures materials for other industries such as the dumpers used in mining and quarries, forklifts or even crushers.
All the classified ads for materials and spare parts, new or used, are available on our website Europe-construction-equipment.com. Find the available materials from Komatsu : track excavator, Mini excavator, Wheel excavator, Rail/road excavator, rigid backhoe loader, Wheel loader, mini-loader, excavator spare parts, hydraulic spare parts, articulated dumper, etc...
Check the technical sheets KOMATSU
Latest ads published
11
NEW
Komatsu PC55MR-5E0 new mini excavator
2021
5 hours
5 tonnes
New
7
NEW
Komatsu PC290LC8 PC290 LC-8 used track excavator
2010
11600 hours
29.23 tonnes
Netherlands - Venlo
6
NEW
Komatsu PC210-10 used track excavator
2022
3 hours
22 tonnes
Netherlands - Venlo
6
NEW
Komatsu PC210-10 new track excavator
2022
22 tonnes
New
Netherlands - Venlo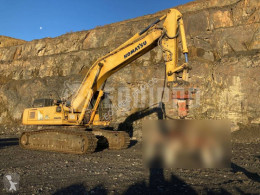 24
Komatsu PC450LCHD-8 used track excavator
2008
7636 hours
44.665 tonnes
Video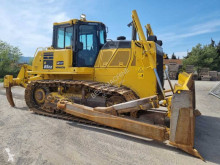 6
Komatsu D85PX-18 D85EX-18EO used crawler bulldozer
2020
2239 hours
Video
France - Puget Sur Argens
(83)

12
NEW
Komatsu PC110 damaged track excavator
9
NEW
AUTO TRANSPORTADORA MODERNA PORTUENSE SA
Komatsu PC88MR-6 used mini excavator
2008
5405 hours
8.79 tonnes
Portugal - Anadia

Do you want to tell the seller that you saved the ad?
By ticking "Yes", the seller will get an email with your contact details (name, last name, email address).

Ou-Yi Machinery Co. ltd

45 ads

BAUMA Vermiet- und Handels GmbH

14 ads

Bosch Baumaschinen GmbH

13 ads

Mpmaquinas unipessoal lda

13 ads

AN INTERNATIONAL BV

13 ads

Goosmann Baumaschinen GmbH

11 ads

SWENSKA POWERHOUSE

11 ads

Desguaces Casquero

10 ads

LUPHER Spółka Jawna Import-Export Maszyn i Urządzeń Budowlanych

9 ads

STRIMAK Baumaschinen & Kfz GmbH

8 ads

CHOGI Mariusz Chodorowski

8 ads

AERTSSEN TRADING NV

7 ads

MEURRENS MACHINERY NV

5 ads

Obra Pública y Agroindustrial, SL

5 ads

EGC Parts Baumaschinen Demontagen UG (haftungsbeschränkt) & Co. KG

4 ads

LANGUEDOC MATERIELS

4 ads

Baumaschinen Puntigam GmbH

4 ads

Olkop Hurtownia Olejów i Paliw Gabriel Kropkowski

4 ads

Golec Nutzfahrzeuge GmbH

3 ads

BERGERAT MONNOYEUR FRANCE

3 ads

STELLMANN BAUMASCHINEN AG

3 ads

Procar comércio de automoveis maquinas e camioes lda

3 ads

MAQUINARIA BOLDOBA SL

3 ads

LEEIJEN TRADING B.V.

3 ads

GEST LEASE INGENIERIE

3 ads

MAQUIDEMOLEX ESPAÑA S.L.

3 ads

KM MASZYNY BUDOWLANE

3 ads

RIVERLAND EQUIPMENT

3 ads

procida macchine srl

3 ads

Kiesel Worldwide Machinery GmbH

3 ads

Materiales De Construcción Alborea, S.L.

3 ads

Ascendum Maquinaria S.A.U.

2 ads

ALGA Nutzfahrzeug- und Baumaschinen GmbH & Co. KG

2 ads

Abrantes Almeida e Simoes Lda

2 ads

GUAINVILLE INTERNATIONAL

2 ads

NUOVA EUROMACCHINE S.R.L.

2 ads

H ET S NUTZFAHRZEUGE

2 ads

ÁRIDOS EL ROBLEDO, S.L

2 ads

ROAD CONSULTING Sas

2 ads

MERKANTIL Export-Import GmbH

2 ads

VAN HAVERE BOUWMACHINES

2 ads

Simex Baumaschinenhandel GmbH

1 ad

Fischer u. Schweiger GmbH

1 ad

Infa Nutzfahrzeuge GmbH

1 ad

O.B.M. Baumaschinen-Gabelstapler Handels- und Vermietungs GmbH

1 ad

Autopark A5 Nutzfahrzeuge Rossol

1 ad

MARINO CARRELLI ELEVATORI

1 ad

AUTOPALAS VALLADOLID, S.L.L.

1 ad

MJC TRUCKS & MACHINERY BVBA

1 ad

Equipos Bergantiños, S.L.U.

1 ad

BERGERAT MONNOYEUR POLSKA Sp. z o.o

1 ad

Valdemar & Filhos, Lda.

1 ad

Bellator Maszyny Budowlane Sp. z o.o.

1 ad

ECOGLOBAL D INVERSIONS 21, S.L.

1 ad

MACHINERY RESALE BVBA

1 ad

Tranalem Europa S.L.

1 ad

Troostwijk Veilingen B.V.

1 ad

Adamex Spółka Jawna A.K.W. Kosowscy

1 ad

F.lli Zenzalari s.n.c.

1 ad

AUTO TRANSPORTADORA MODERNA PORTUENSE SA

1 ad

Grzegorz Zyguła PRZEDSIĘBIORSTWO USLUGOWO HANDLOWE

1 ad

Talleres Dozer 2000 SL

1 ad

PC MACCHINE MOVIMENTO TERRA

1 ad

SEPREM-SERV PRECISÃO DO MINHO, LDA

0 ad