The latest in machines and construction equipment news
Volvo LX2 : a 100% electric compact loader
10/04/2018 04:48:47 pm
The latest in machines and construction equipment news
Volvo
On September 12th, 2018, the Volvo teams gathered in Berlin (Germany) for a "Summit innovation". The unit in charge of construction equipment manufacturing, Volvo CE, has taken advantage of this summit to introduce the prototype of the wheel compact loader.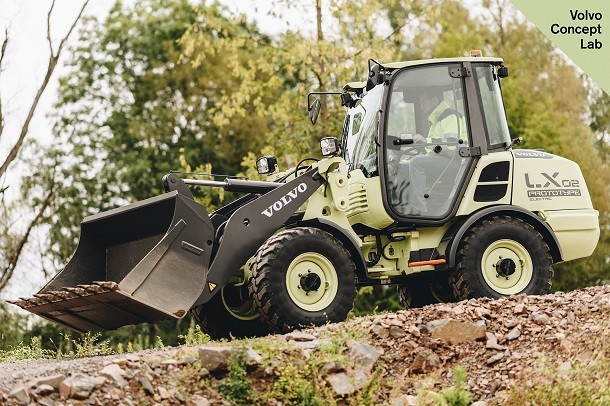 Volvo CE goes electric
Called the LX2, this machine is totally electric. It is the 3rd prototype of this type from the manufacturer, after the HX2 mini dumper and the EX2 mini excavator, that shows the interest in this technology.
Volvo CE currently leads a project around electric equipments that will reduce close to zero the carbon emissions. The solution, presented during the "Innovation summit" is being tested in a quarry near Göteborg (Sweden) belonging to the Skanska Sweden company. For the occasion, the HX2 (mini dumper), EX1 (cable shovel) and LX1 (hybrid loader) will showcase their efficiency.
A new generation battery
The LX2 compact loader is equipped with a lithium-ion new generation battery. It supplies the hydraulic system as well as the transmission, each of these features being managed by a specific electric motor. According to the information given by Volvo CE, the autonomy of this battery is 8 hours for a classic use during construction or landscaping work for instance.
These performances render this 100% electric LX2 compact loader a credible alternative to the polluting and noisy machines. In addition to the ecologic and noise advantages the manufacturer also highligths that the maintenance needs are reduced in comparison to old models, with a high availability as well as a controlled TCO (Total Cost of Ownership).