The latest in machines and construction equipment news
Cat announces its new 814K wheel dozer
07/12/2018 01:46:32 pm
The latest in machines and construction equipment news
Caterpillar
Caterpillar just announced the sale of a model completing their wheel dozer range. It was designed to bring a solution to the difficult tasks of backfilling, levelling, soil prep and mine work.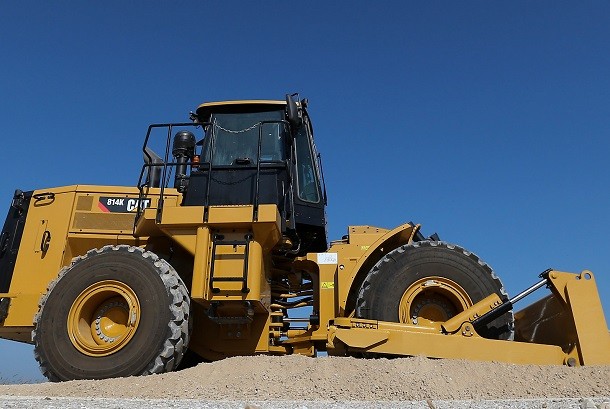 A machine made for dangerous conditions
The Caterpillar 814K wheel dozer is equipped with a C7.1 ACERT™ engine meeting the requirements for the norms on European and North American markets. It includes an automatic engine shut-down system.
This Cat 814K also has a Powershift transmission and a 4-gear gearbox. The APECS system (Advanced Productivity Electronic Control Strategy) optimises the gear change when the machine is fully loaded or when on steep terrain. Finally, a software alerts the technical team and the driver in case of  technical failure in order to avoid on-site problems, that are more expensive.
A new driver's cab
Improvements have been made to the cab. Indeed, it is better soundproofed than the previous model (71 dB now and 78 before). The seat's pneumatic suspension offers the driver a protection against vibrations. The commands have been simplified giving a more precise control of the machine and a maximum visibility.
Finally, the tactile information screen regroups all the essential information abou the machine in real time (different temperatures or fuel consumption for instance).  It also is the interface, via the VIMS system (Vital Information Management System), between the machine and the technical team in charge of the maintenance, that centralises all the saved parameters for analysis.