Doosan: an unusual auction
05/17/2018 10:56:21 am
The manufacturer Doosan Infracore Construction Engine attended Intermat. In order to celebrate the production of more than 400,000 pieces of equipment the company organized an auction with a very special lot: a unique excavator created for the occasion.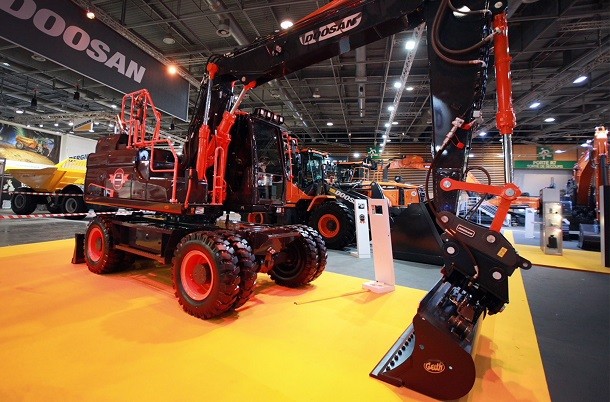 A unique excavator up for sale
Doosan has chosen to celebrate in an original way the production of over 400,000 excavators, wheel loaders, articulated dumpers and other construction equipment around the world. To achieve this, the manufacturer has set up an auction of a unique model of excavator, specifically designed for this occasion.
It was eventually the Swedish company Doosia (dealer) which made the highest bid. It has therefore been awarded this unique version of the excavator designed by Doosan Infracore Construction Engine.
Charitable auctions
The other interest of this auction lies in its charitable dimension. Indeed, Charlie Park, general manager of the European branch of the manufacturer, indicated that a portion of the winning bid (10 000 € to be specific) was going to be given to an association acting in the field of Building and Public Works, the BTP Plus Foundation.
This foundation was created in 2005 under the impetus of BTP Gestion, the joint body of the professional Building and Public Works sector and Fondation de France. It has thus contributed to the success of more than 260 projects by investing nearly 10 million euros. Its aim is to support actions in favour of professional integration and social promotion in the Building and Public Works sector.