The latest in machines and construction equipment news
CAT upgrades its articulated dumpers
05/11/2018 10:34:29 am
The latest in machines and construction equipment news
Caterpillar
Caterpillar has just announced the release of three "upgraded" dumpers named Cat 730, 730 EJ (Ejector) and 735. They have been designed based on the already successful 730C2, 730C2 EJ and 735C models from the C range.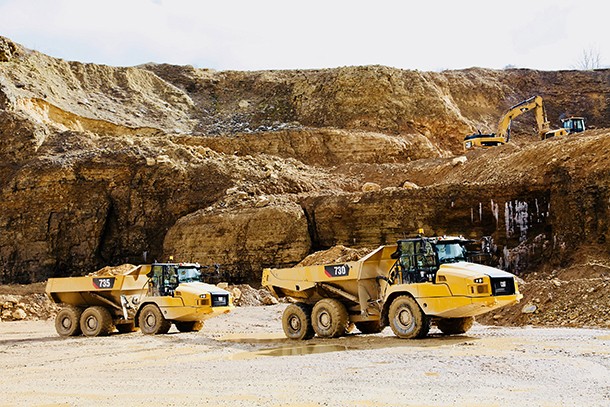 A productivity increase
Caterpillar has used the feedback from various experiments in real conditions to improve the productivity of its machines. Thus, the manufacturer has made the decision to lighten the new 735 model and equip it with the latest evolution of the C13 ACERT engine. It is almost 20% more energy efficient than the previous version.
The 730 and 730 EJ trucks now feature various driving assistance features such as an automatic retarder system and a hill start system. Like the 735, they also have an economical operating mode to optimize productivity.
Safer and more comfortable machines
In addition to making these three dumpers more efficient compared to the previous generation, Caterpillar has chosen to make them easier for operators to use. To achieve this, the manufacturer has redesigned the cockpit. It will now be more dustproof and will limit external noise exposure to 72 dB (7 dB less than the C range). Operator access to the cockpit was also facilitated and made more secure.
Finally, new commands will make this machine easier to handle. Among those, the single lever that controls the transmission and lifting system or the protection system against gear change.