Construction and Public Works
Liebherr R 960 Demolition : the crawler excavator destroys a 7-storey building
11/23/2017 10:18:28 am
Construction and Public Works
Liebherr
German company Ehlert & Söhne has tested the R 960 demolition crawler excavator by Liebherr on their French production site in Colmar.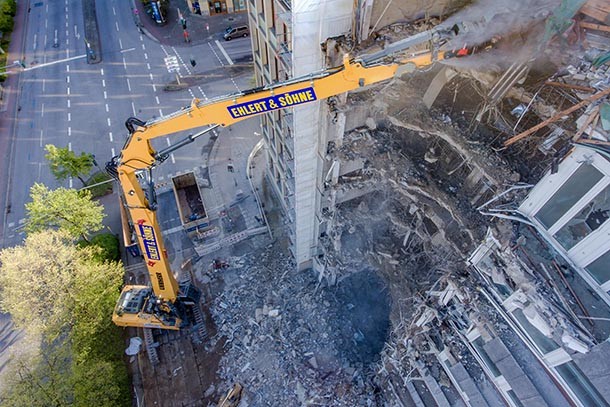 A nice working height
Ehlert & Söhne didn't have, in their impressive vehicle fleet, a demolition excavator with a working height enough for extensive work. In order to take part in more important projects and continue its development, the company has bought a new machine : a Liebherr R 960 Demolition. The start, last April, of an important 7-storey building demolition in Hamburg was the perfect way of showcasing what this crawler excavator can do and show its performances for work at a height.
A conclusive experience
The Liebherr R 960 crawler excavator succeeded after more than a 1000 hours. Indeed, its working capacity (up to 33 metres) as well as its robustness make this excavator the perfect machine for work at a height. The feedback from the two operators working with the R 960 have been positive. The operators appreaciated the comfort, stability as well as the ergonomy of the dashboard. They were also plesantly surprised by the low noises when the excavator was on. Moreover, the Liebherr R 960 Demolition has lots of other advantages such as the tactile screen to know the position and inclination in real time, or the cab with optimum visibility thanks to the 30-degree inclinaison.