Hitachi : Used construction equipments from Hitachi
Dealerships, Distributors, Traders & Sellers Hitachi
Kiesel Worldwide Machinery GmbH

52 ads

Kiesel Worldwide Machinery GmbH - Equipment

35 ads

AERTSSEN TRADING NV

9 ads

Goosmann Baumaschinen GmbH

5 ads

Simex Baumaschinenhandel GmbH

5 ads

Bosch Baumaschinen GmbH

5 ads

GERL Baumaschinenhandel GmbH

5 ads

Olkop Hurtownia Olejów i Paliw Gabriel Kropkowski

5 ads

EGC Parts Baumaschinen Demontagen UG (haftungsbeschränkt) & Co. KG

4 ads

BERGERAT MONNOYEUR FRANCE

4 ads

H.P.A. PLOEGMAKERS MACHINERY

4 ads

ECOGLOBAL D INVERSIONS 21, S.L.

4 ads

Mpmaquinas unipessoal lda

3 ads

VERHAEGH TRADING B.V.

3 ads

Baumaschinen Puntigam GmbH

3 ads

AKSAMIT GLOBAL II SP. Z O.O.

3 ads

BAUMA Vermiet- und Handels GmbH

2 ads

Procar comércio de automoveis maquinas e camioes lda

2 ads

Ligação directa lda

2 ads

Termáquina II – Bombas e Equipamentos , Lda

2 ads

Obra Pública y Agroindustrial, SL

2 ads

Procida Macchine srl

2 ads

Adamex Spółka Jawna A.K.W. Kosowscy

2 ads

ITAL CAR RUELLA S.R.L.

1 ad

Werner Haller Baumaschinenhandel

1 ad

LUPHER Spółka Jawna Import-Export Maszyn i Urządzeń Budowlanych

1 ad

STELLMANN BAUMASCHINEN AG

1 ad

EXIM MAQUINARIA, SL.

1 ad

BSS heavy machinery GmbH

1 ad

Ximo Magalló & Cía., S.A.

1 ad

GEST LEASE INGENIERIE

1 ad

Salzgitter EuroLogistik GmbH

1 ad

BERGERAT MONNOYEUR POLSKA Sp. z o.o

1 ad

H ET S NUTZFAHRZEUGE

1 ad

TRANSPORTES RAMASSOT SL

1 ad

Keltec-PL Sp. z o. o.

1 ad

MACHINERY RESALE BVBA

1 ad

J. RIBEIRO, MAQUINARIA LDA

1 ad

CHOGI Mariusz Chodorowski

1 ad

MERKANTIL Export-Import GmbH

1 ad

VAN HAVERE BOUWMACHINES

1 ad

AANTJES GOUDRIAAN MACHINERY

1 ad
---
Hitachi Construction Machinery Co., Ltd. (HCM) and Hitachi Construction Machinery (Europe) BV are two branches from the Hitachi group specialising in conception, manufacturing, sale and maintenance of construction machines. In order to meets the needs of professionals, Hitachi Construction offers construction machines for different industries: civil engineering and construction, the mining industry. The track and wheel hydraulic excavators, rigid dumpers, loaders or cranes are the flagship machines from Hitachi.
Always wanting to be innovative, the make doesn't stop improving its ranges of materials in terms of comfort, productivity and reliability. Hitachi Construction became leader on the extra-large excavators market. These machines offer a quality of work in tough environment with maximum safety.
On Europe-construction-equipment.com, you can easily find all the new and used materials from Hitachi. If you already have a Hitachi construction equipment, our website also offers a selection of spare part ads made for your materials.
Find the available machines and materials from Hitachi: Track excavator, mini excavator, wheel excavatore, rail/road excavator, demolition excavator,pindustrial excavator, cable shovel, wheel loader, mini-loader, crawler crane, mobile crane, pile-driving machine, drilling vehicle, rigid dumper, track dumper, power generator, hammer, bucket, etc.
Check the technical sheets HITACHI
Category
Version
Poids opérationnel
Engine power
Bucket capacity
Pelle hydraulique
ZX 350 LC 6
35,2 T
202 kW
1,4 m³

See

Detailed sheet

Pelle hydraulique
ZX 850 LCH 3
84,5 T
397 kW
6,1 m³

See

Detailed sheet

Pelle hydraulique
ZX 490 LCH 6
49,4 T
270 kW
2,1 m³

See

Detailed sheet

Pelle hydraulique
ZX 300 LC 6
30,2 T
186 kW
1,25 m³

See

Detailed sheet

Pelle hydraulique
ZX 210 LC 5
21,4 T
122 kW
1,4 m³

See

Detailed sheet

Pelle hydraulique
ZX 135 US 5
14,5 T
73 kW
0,66 m³

See

Detailed sheet

Pelle hydraulique
ZX 470 LCH 5
48,5 T
270 kW
2,6 m³

See

Detailed sheet

Pelle hydraulique
ZX 520 LCH 3
51,2 T
260 kW
3,2 m³

See

Detailed sheet
Latest ads published
Hitachi ZX250LCN used track excavator
ITALY - Calmasino Di Bardolino
1
Hitachi Chenilles acier machinery equipment new
FRANCE -

Finistère

- Concarneau

11
Hitachi ZX135US used track excavator
90 HP
2012
9300 hours
14.3 tonnes

16
Hitachi ZX160W used wheel excavator
Procar comércio de automoveis maquinas e camioes lda
12
Hitachi ZX135US-3 used track excavator
Procar comércio de automoveis maquinas e camioes lda
4
Hitachi ZX26U used mini excavator
20 HP
2016
3500 hours
2.7 tonnes
Material warranty
FRANCE -

Pyrénées-Atlantiques

- Pau
7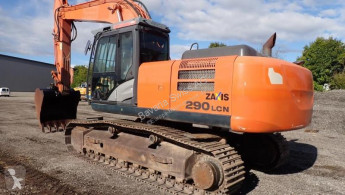 Hitachi ZX290LCN-5B used track excavator
9
Hitachi ZX85USB-5A used mini excavator
GERL Baumaschinenhandel GmbH
Kiesel Worldwide Machinery GmbH

52 ads

Kiesel Worldwide Machinery GmbH - Equipment

35 ads

AERTSSEN TRADING NV

9 ads

Goosmann Baumaschinen GmbH

5 ads

Simex Baumaschinenhandel GmbH

5 ads

Bosch Baumaschinen GmbH

5 ads

GERL Baumaschinenhandel GmbH

5 ads

Olkop Hurtownia Olejów i Paliw Gabriel Kropkowski

5 ads

EGC Parts Baumaschinen Demontagen UG (haftungsbeschränkt) & Co. KG

4 ads

BERGERAT MONNOYEUR FRANCE

4 ads

H.P.A. PLOEGMAKERS MACHINERY

4 ads

ECOGLOBAL D INVERSIONS 21, S.L.

4 ads

Mpmaquinas unipessoal lda

3 ads

VERHAEGH TRADING B.V.

3 ads

Baumaschinen Puntigam GmbH

3 ads

AKSAMIT GLOBAL II SP. Z O.O.

3 ads

BAUMA Vermiet- und Handels GmbH

2 ads

Procar comércio de automoveis maquinas e camioes lda

2 ads

Ligação directa lda

2 ads

Termáquina II – Bombas e Equipamentos , Lda

2 ads

Obra Pública y Agroindustrial, SL

2 ads

Procida Macchine srl

2 ads

Adamex Spółka Jawna A.K.W. Kosowscy

2 ads

ITAL CAR RUELLA S.R.L.

1 ad

Werner Haller Baumaschinenhandel

1 ad

LUPHER Spółka Jawna Import-Export Maszyn i Urządzeń Budowlanych

1 ad

STELLMANN BAUMASCHINEN AG

1 ad

EXIM MAQUINARIA, SL.

1 ad

BSS heavy machinery GmbH

1 ad

Ximo Magalló & Cía., S.A.

1 ad

GEST LEASE INGENIERIE

1 ad

Salzgitter EuroLogistik GmbH

1 ad

BERGERAT MONNOYEUR POLSKA Sp. z o.o

1 ad

H ET S NUTZFAHRZEUGE

1 ad

TRANSPORTES RAMASSOT SL

1 ad

Keltec-PL Sp. z o. o.

1 ad

MACHINERY RESALE BVBA

1 ad

J. RIBEIRO, MAQUINARIA LDA

1 ad

CHOGI Mariusz Chodorowski

1 ad

MERKANTIL Export-Import GmbH

1 ad

VAN HAVERE BOUWMACHINES

1 ad

AANTJES GOUDRIAAN MACHINERY

1 ad