Bobcat : Used construction equipments from Bobcat
Dealerships, Distributors, Traders & Sellers Bobcat
STRIMAK Baumaschinen & Kfz GmbH

8 ads

Abrantes Almeida e Simoes Lda

4 ads

GERL Baumaschinenhandel GmbH

4 ads

Mpmaquinas unipessoal lda

3 ads

ALGA Nutzfahrzeug- und Baumaschinen GmbH & Co. KG

3 ads

MAQUIDONAS - Comércio de Veículos Pesados e Ligeiros, Lda.

3 ads

Valdemar & Filhos, Lda.

3 ads

Bettiga Attrezzature Edili Srl

3 ads

Auto Transportadora Moderna Portuense SA

3 ads

Autopark A5 Nutzfahrzeuge Rossol

2 ads

LEEIJEN TRADING B.V.

2 ads

PFEIFER HEAVY MACHINERY BV

2 ads

ECOGLOBAL D INVERSIONS 21, S.L.

2 ads

Tranalem Europa S.L.

2 ads

Fritz Brandt Landmaschinen

2 ads

Goosmann Baumaschinen GmbH

1 ad

BERGERAT MONNOYEUR FRANCE

1 ad

AUTOMOVEIS F.SALEIRO LDA

1 ad

GEST LEASE INGENIERIE

1 ad

MANAIN ELEVACIÓ S.L.U

1 ad

Hans Völk GmbH & Co. KG

1 ad

Gschlecht Landtechnik

1 ad

Baumaschinen Puntigam GmbH

1 ad

Fricke Landmaschinen GmbH

1 ad

SOLUMAK VENTAS Y SERVICIOS SL

1 ad

Landtechnik Stephan Kersting

1 ad

PHU DARIUSZ SIEMIENIEWSKI

1 ad

Fischer Baumaschinen

1 ad
---
Bought in 2007 by one of the world leaders in the construction industry Doosan Infracore, Bobcat (branch of Doosan Bobcat Inc.) is an American company born in the 1940s and specialising on in the manufacturing and sale of construction site materials. The branch stands out by its exclusive production of compact machines that allow any types of work. Bobcat manufacturers the following machines : wheel or track compact loaders, mini-excavators, telescopic handlers and other materials such as all-wheel steert loaders.
These materials are used industries such as, landscaping, green spaces maintenance and even mining. The weight, the height of the bbom and jib or the other type of hooks are important elements for the purchase of compact machines for construction sites.
The website Europe-construction-equipment.com allows you to filter your research with very precise criteria. You can find all the ads for used and new machines, equipments and spare parts from Bobcat : mini excavator, track excavator, wheel excavator, mini-loader, wheel loader, track loader, asphalt planner, compressor, excavator part, hydraulic, loader parts, bucket, go-for-digger, snow blade, engine parts, etc.
Check the technical sheets BOBCAT
Category
Version
Poids opérationnel
Engine power
Bucket capacity
Mini loader
743
1,97 t
28 kW
0,42 m³

See

Detailed sheet

Mini loader
763-G
2,522 t
34,3 kW
0,7 m³

See

Detailed sheet

Mini loader
443
1,1 t
11 kW
0,25 m³

See

Detailed sheet

Mini loader
643
1,65 t
22,4 kW
0,38 m³

See

Detailed sheet

Mini loader
763 G-2
2,522 t
11,3 kW
0,7 m³

See

Detailed sheet

Mini loader
443 G
1,1 t
11 kW
0,25 m³

See

Detailed sheet

Mini loader
753 G
2,15 t
32 kW
0,6 m³

See

Detailed sheet

Mini loader
763 F
2,15 t
34,3 kW
0,46 m³

See

Detailed sheet
Latest ads published
Bobcat E 26 used mini excavator
2016
5903 hours
3.5 tonnes

Auto Transportadora Moderna Portuense SA
13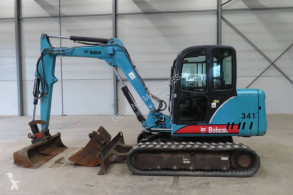 Bobcat 341 G used mini excavator
2007
7819 hours
5.3 tonnes
16
Bobcat E 55 Z used track excavator
46 HP
2021
27 hours
5.346 tonnes
3
Bobcat S650 used mini loader
PHU DARIUSZ SIEMIENIEWSKI
24
Bobcat T 770 used track loader
2020
676 hours
4.768 tonnes

9
Bobcat E25 used mini excavator
GERL Baumaschinenhandel GmbH
4
Bobcat TOUS TYPES DE PIECES : HYDRAULIQUES (pompe principale, moteur de rotation, translation, et distributeurs) MOTEURS, TRANSMISSION ET AUTRES (cabine, carrosserie, électronique, réservoir, châssis et contre-poids, train de roulement, lame, pince, vérin) new hydraulic

19
Bobcat t590 used mini loader
2014
2007 hours
3.57 tonnes

Bobcat Bensheim GmbH

0 ad
STRIMAK Baumaschinen & Kfz GmbH

8 ads

Abrantes Almeida e Simoes Lda

4 ads

GERL Baumaschinenhandel GmbH

4 ads

Mpmaquinas unipessoal lda

3 ads

ALGA Nutzfahrzeug- und Baumaschinen GmbH & Co. KG

3 ads

MAQUIDONAS - Comércio de Veículos Pesados e Ligeiros, Lda.

3 ads

Valdemar & Filhos, Lda.

3 ads

Bettiga Attrezzature Edili Srl

3 ads

Auto Transportadora Moderna Portuense SA

3 ads

Autopark A5 Nutzfahrzeuge Rossol

2 ads

LEEIJEN TRADING B.V.

2 ads

PFEIFER HEAVY MACHINERY BV

2 ads

ECOGLOBAL D INVERSIONS 21, S.L.

2 ads

Tranalem Europa S.L.

2 ads

Fritz Brandt Landmaschinen

2 ads

Goosmann Baumaschinen GmbH

1 ad

BERGERAT MONNOYEUR FRANCE

1 ad

AUTOMOVEIS F.SALEIRO LDA

1 ad

GEST LEASE INGENIERIE

1 ad

MANAIN ELEVACIÓ S.L.U

1 ad

Hans Völk GmbH & Co. KG

1 ad

Gschlecht Landtechnik

1 ad

Baumaschinen Puntigam GmbH

1 ad

Fricke Landmaschinen GmbH

1 ad

SOLUMAK VENTAS Y SERVICIOS SL

1 ad

Landtechnik Stephan Kersting

1 ad

PHU DARIUSZ SIEMIENIEWSKI

1 ad

Fischer Baumaschinen

1 ad

MICHAELIS & MARTINS, LDA

0 ad