The latest in machines and construction equipment news
A new wheel loader by Liebherr to handle logs
04/14/2017 10:20:05 am
The latest in machines and construction equipment news
Liebherr
The new wheel LogHandler by Liebherr is based on the XPower® concept. The machine is equipped with a lift arm where you can adapt different log grabs depending on the work. Moreover, several innovations helped develop the safety in the vehicle. The XPower® transmission offers an optimum efficiency.
A transmission based on the Xpower® concept

The LogHandler L 580 Xpower® is based on the Xpower® technology by Liebherr with a transmission with shared output : a transmission meeting the requirements of the Tier 4f (gas emissions) norm with the SCR (Selectiv Catalyst Reduction) system for exhaust gas treatment. The hydrostatic transmission with a mechanic transmission are important for a reduced fuel consumption : in short loading phases the hydrostatic transmission prevails whereas during instance demands (hill or log transport), the mechanic transmission takes over.

The LogHandler L 580 Xpower® combines power and robustness like every other loaders by Liebherr equipped with the same technology. The 250 kW / 340 hp engine is also divided into two training lines.

An optimised loading arm and efficient grapples
For the log grasping, the LogHandler L 580 Xpower® wheel loader have also been improved : different grapples of different sizes are available. For the standard version, the grapple grabs up to 3,6 m² of round wood, the trunks are held by a thin chain. The grapples, which rotates on 360° comes in heart shape (made for containers or trunks) or can be combined (multipurpose). The lift arm has been imrpoved and can now expand to 4 meters. The guidance and use system of the grapple has also been improved : with the SSR (Smooth Speed Reduction) technology, the gears change have been soften and jolts are avoided.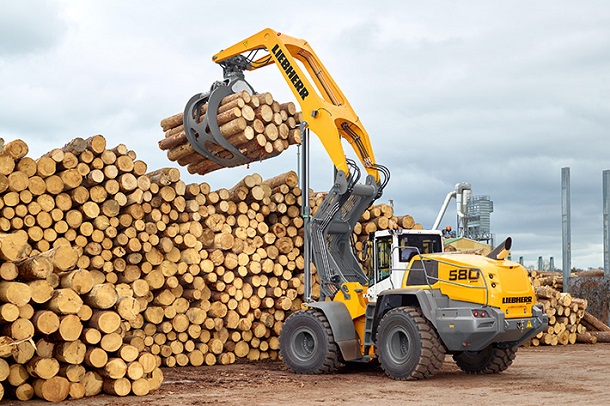 Lots of innovations in this LogHandler L 580 Xpower®
The LogHandler L 580 XPower® offers many innovations, among which the addition of a concrete counterweight to avoid filling tyres with water or reinforcement of the axles and hydraulic cylinders. The driving area is equipped with lots of accessories to help the operator : rearview camera and screen, grapple camera (optional), grapple and arm command from the right hand, automatic positioning (one button) of the grapple when transporting wood. The lights (17 led lights) help to transport wood safely in the dark and the important steps to easily access the driving cab. The equipments position means maintenance needs to be regular (for the fuel tanks and the radiator) and has been redesigned.