The latest in machines and construction equipment news
New range of mini-excavators CASE Construction Equipment : innovations to come
03/07/2017 03:31:47 pm
The latest in machines and construction equipment news
Case
At the beginning of 2017, CASE launched a new range of mini-excavators from the C series. This range is complete since it has 6 models between 1,7 and 6 tonnes. Additional models are expected during the year.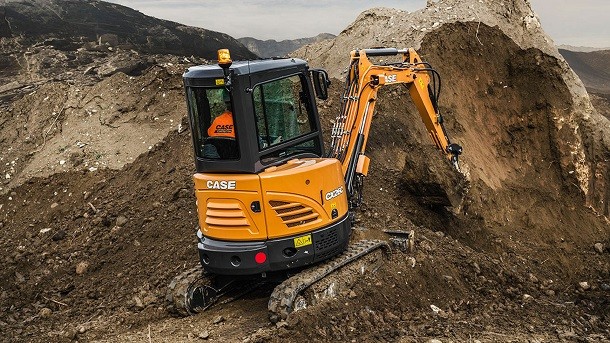 The new range of excavators from the C series is described by the make as including the first products from the alliance between CASE and Hyundai Heavy Industries. The excavators production is split between the two production sites of both makes.
Safety : a priority for CASE
The construction equipment manufacturer has improved the safety of their excavators by adding protection equipments for turnaround, tipping and falling objects.
The mini-excavators are also equipped with an emergency stop switch if needed. Moreover, the operator's view has improved with rear camera to reinforce safety on construction sites.
Focus on incredibly agile excavators, the CX17C an CX18C
Both mini-excavator models, the CX17C and CX18C are made for confined spaces. Their compact dimensions allow operators to work in construction sites in the middle of cities. Indeed, the excavator's tracks are retractable so the machine is only one meter wide.
The make explains that the powerful hydraulic flow allows the machines to have an efficient digging force.  The improvments made to these mini-excavators help the operator work faster.
Excavators engineers also resolved the problem of the cab's comfort. Indeed, the driving area includes commands that are placed ergonomically. Finally, the driver can have an air-suspension seat.
An increased versatility for the CX26C and CX37C excavators

The CX26C and CX37C models (2,6 tonnes to 3,7 tonnes) stand out by their digging depth as well as the large turning radius of the boom. The CX37 mini excavator can be equipped with steel tracks. Besides, several equipments can be added to these two excavators, for instance an anti-theft system or a board for waterproofed digital tools.
The heaviest models CX57C and CX60C : comfort showcased

The two models CX57C and CX60C are the heaviest of this new range and stand out in terms of comfort. The operator is more comfortable with a heated seat and storage spaces in the cab. Finally, these excavators are equipped with with a tactile 5.7'' LCD color screen, a SD card reader, a USB port and a 12 volt plug.
Technical recap of the mini-excavators from the C series
| | | | | |
| --- | --- | --- | --- | --- |
| Name | Operating weight (in tonnes)  | Cylinder | Engine | Rotation speed |
| CX17C | 1,7 t | 898 cm3 | Kubota D902 | 9,5 t/min |
| CX18C | 1,8 t | 952 cm3 | Mitsubishi L3E | 9,3 t/min |
| CX26C | 2,65 t | 1261 cm3 | Kubota D1305 | 9,1 t/min |
| CX37C | 3,75 t | 1642 cm3 | Yanmar 3TNV88F | 9,5 t/min |
| CX57C | 5,58 t | 3319 cm3 | Yanmar 4TNV98C | 9,1 t/min |
| CX60C | 5,98 t | 3319 cm3 | Yanmar 4TNV98C | 8,8 t/min |