Terex : Used construction equipments from Terex
Dealerships, Distributors, Traders & Sellers Terex
PFEIFER HEAVY MACHINERY BV

14 ads

MAQUINARIA BOLDOBA SL

7 ads

KM MASZYNY BUDOWLANE

6 ads

CIE INTERNATIONAL SARL

4 ads

AERTSSEN TRADING NV

4 ads

Adamex Spółka Jawna A.K.W. Kosowscy

4 ads

SEK-BUD Sebastian Śmierciak

4 ads

Autopark A5 Nutzfahrzeuge Rossol

3 ads

TRADELINK SAS DI TORRI CRISTIAN & C

3 ads

O.B.M. Baumaschinen-Gabelstapler Handels- und Vermietungs GmbH

2 ads

Bosch Baumaschinen GmbH

2 ads

ETS HENRI VAISSIERE

2 ads

STRIMAK Baumaschinen & Kfz GmbH

1 ad

Goosmann Baumaschinen GmbH

1 ad

Maropsa - Maquinas alquileres y repuestos para OP SA

1 ad

Barile Nutzfahrzeuge GmbH

1 ad

Mpmaquinas unipessoal lda

1 ad

VERHAEGH TRADING B.V.

1 ad

DE BORG TRADING COMPANY BV

1 ad

Las Colinas Cranes and Parts S.L.

1 ad

Abrantes Almeida e Simoes Lda

1 ad

AUTOPALAS VALLADOLID, S.L.L.

1 ad

LEEIJEN TRADING B.V.

1 ad

MAQUIDONAS - Comércio de Veículos Pesados e Ligeiros, Lda.

1 ad

GEST LEASE INGENIERIE

1 ad

MAQUIDEMOLEX ESPAÑA S.L.

1 ad

Truck-Box Spółka Jawna

1 ad

ECOGLOBAL D INVERSIONS 21, S.L.

1 ad

ÁRIDOS EL ROBLEDO, S.L

1 ad

MACHINERY RESALE BVBA

1 ad

CHOGI Mariusz Chodorowski

1 ad

JAIME LOPEZ MAQUINARIA, S.L.

1 ad

GOMEZ TRADING HOLLAND B.V.

1 ad

TAFF HEAVY MACHINERY BV

1 ad

Baumaschinen Puntigam GmbH

1 ad

SANDOKAN, UNIPESSOAL LDA

1 ad

Olkop Hurtownia Olejów i Paliw Gabriel Kropkowski

1 ad
---
American manufacturer of construction and lifting equipments, Terex Corporation is a group, a branch of General Motors, with headquarters in Connecticut, USA. It owns several important makes such as Demag, Genie or Powerscreen. Known for their « all-terrain » cranes, city cranes, track crane or their mobiles cranes, the make also has materials for other use : construction with excavators, dumpers or loaders as well as lifting materials such as aerial platforms or forklifts.
Find all the materials from Terex on Europe-construction-equipment.com : excavators, backhoe loaders, cranes or loaders and dumpers. You already have a Terex equipment? Take advantage of our « Spare parts» section and find all the used and new spare parts you need to maintain or repair your machines!
Latest ads published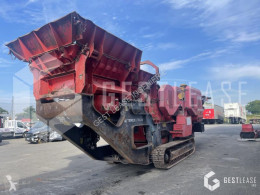 Terex FINLAY J 1160 used crusher
FRANCE -

Bas-Rhin

- Illkirch
8
Terex Wheel Loader TL 70 Wheel Loader TL 70 used wheel loader
GOMEZ TRADING HOLLAND B.V.
7
Terex Eriez Master Magnets OVERBAND MAGNETIC SEPARATORS used crushing/sieving equipment
Adamex Spółka Jawna A.K.W. Kosowscy
13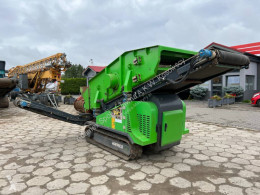 Terex Evoquip Harrier 220 used siever
Adamex Spółka Jawna A.K.W. Kosowscy
9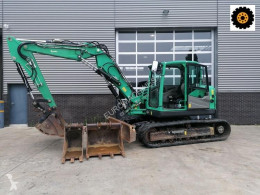 Terex TC 125 mono/GA used track excavator
2016
2139 hours
12.5 tonnes
FRANCE -

Pas-de-Calais

- Eperlecques
5
Terex TBG 620 used crusher
3
Terex CTT 161 A/8 TS16 used tower crane
FRANCE -

Pyrénées-Orientales

- Perpignan
12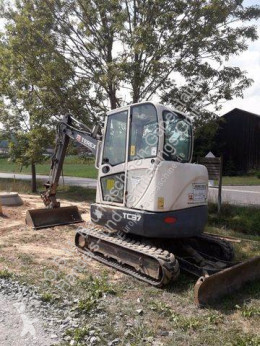 Terex TC37 used mini excavator
O.B.M. Baumaschinen-Gabelstapler Handels- und Vermietungs GmbH
PFEIFER HEAVY MACHINERY BV

14 ads

MAQUINARIA BOLDOBA SL

7 ads

KM MASZYNY BUDOWLANE

6 ads

CIE INTERNATIONAL SARL

4 ads

AERTSSEN TRADING NV

4 ads

Adamex Spółka Jawna A.K.W. Kosowscy

4 ads

SEK-BUD Sebastian Śmierciak

4 ads

Autopark A5 Nutzfahrzeuge Rossol

3 ads

TRADELINK SAS DI TORRI CRISTIAN & C

3 ads

O.B.M. Baumaschinen-Gabelstapler Handels- und Vermietungs GmbH

2 ads

Bosch Baumaschinen GmbH

2 ads

ETS HENRI VAISSIERE

2 ads

STRIMAK Baumaschinen & Kfz GmbH

1 ad

Goosmann Baumaschinen GmbH

1 ad

Maropsa - Maquinas alquileres y repuestos para OP SA

1 ad

Barile Nutzfahrzeuge GmbH

1 ad

Mpmaquinas unipessoal lda

1 ad

VERHAEGH TRADING B.V.

1 ad

DE BORG TRADING COMPANY BV

1 ad

Las Colinas Cranes and Parts S.L.

1 ad

Abrantes Almeida e Simoes Lda

1 ad

AUTOPALAS VALLADOLID, S.L.L.

1 ad

LEEIJEN TRADING B.V.

1 ad

MAQUIDONAS - Comércio de Veículos Pesados e Ligeiros, Lda.

1 ad

GEST LEASE INGENIERIE

1 ad

MAQUIDEMOLEX ESPAÑA S.L.

1 ad

Truck-Box Spółka Jawna

1 ad

ECOGLOBAL D INVERSIONS 21, S.L.

1 ad

ÁRIDOS EL ROBLEDO, S.L

1 ad

MACHINERY RESALE BVBA

1 ad

CHOGI Mariusz Chodorowski

1 ad

JAIME LOPEZ MAQUINARIA, S.L.

1 ad

GOMEZ TRADING HOLLAND B.V.

1 ad

TAFF HEAVY MACHINERY BV

1 ad

Baumaschinen Puntigam GmbH

1 ad

SANDOKAN, UNIPESSOAL LDA

1 ad

Olkop Hurtownia Olejów i Paliw Gabriel Kropkowski

1 ad