Terex


Terex : Used construction equipments from Terex
Dealerships, Distributors, Traders & Sellers Terex
Other sellers Terex
PFEIFER HEAVY MACHINERY BV

15 ads

MAQUINARIA BOLDOBA SL

7 ads

KM MASZYNY BUDOWLANE

6 ads

Adamex Spółka Jawna A.K.W. Kosowscy

5 ads

O.B.M. Baumaschinen-Gabelstapler Handels- und Vermietungs GmbH

4 ads

Autopark A5 Nutzfahrzeuge Rossol

3 ads

CIE INTERNATIONAL SARL

3 ads

AERTSSEN TRADING NV

3 ads

TRADELINK SAS DI TORRI CRISTIAN & C

3 ads

Ascendum Maquinaria S.A.U.

2 ads

ECOGLOBAL D INVERSIONS 21, S.L.

2 ads

Baumaschinen Puntigam GmbH

2 ads

Goosmann Baumaschinen GmbH

1 ad

Fischer u. Schweiger GmbH

1 ad

Maropsa - Maquinas alquileres y repuestos para OP SA

1 ad

Barile Nutzfahrzeuge GmbH

1 ad

Bosch Baumaschinen GmbH

1 ad

EGC Parts Baumaschinen Demontagen UG (haftungsbeschränkt) & Co. KG

1 ad

Mpmaquinas unipessoal lda

1 ad

ALGA Nutzfahrzeug- und Baumaschinen GmbH & Co. KG

1 ad

DE BORG TRADING COMPANY BV

1 ad

Las Colinas Cranes and Parts S.L.

1 ad

LEEIJEN TRADING B.V.

1 ad

MAQUIDONAS - Comércio de Veículos Pesados e Ligeiros, Lda.

1 ad

MJC TRUCKS & MACHINERY BVBA

1 ad

MAQUIDEMOLEX ESPAÑA S.L.

1 ad

Truck-Box Spółka Jawna

1 ad

SMK Vermietungs GmbH

1 ad

Valdemar & Filhos, Lda.

1 ad

ÁRIDOS EL ROBLEDO, S.L

1 ad

Troostwijk Veilingen B.V.

1 ad

JAIME LOPEZ MAQUINARIA, S.L.

1 ad

GOMEZ TRADING HOLLAND B.V.

1 ad

HEAVY LIFT ITALIA SRL

1 ad
---
American manufacturer of construction and lifting equipments, Terex Corporation is a group, a branch of General Motors, with headquarters in Connecticut, USA. It owns several important makes such as Demag, Genie or Powerscreen. Known for their « all-terrain » cranes, city cranes, track crane or their mobiles cranes, the make also has materials for other use : construction with excavators, dumpers or loaders as well as lifting materials such as aerial platforms or forklifts.
Find all the materials from Terex on Europe-construction-equipment.com : excavators, backhoe loaders, cranes or loaders and dumpers. You already have a Terex equipment? Take advantage of our « Spare parts» section and find all the used and new spare parts you need to maintain or repair your machines!
Latest ads published
5
Terex AC 40 City used mobile crane
2011
13805 hours
Austria - Salzburg
17
Terex GTH-5022 R GENIE GTH 5022 ŁADOWARKA TELESKOPOWA I MANITOU ROTO MRT 1840 1850 2250 2240 MAGNI RTH 6.35 6.30 telescopic handler used
2008
1161 hours
Video
Poland - Milicz
6
Terex 1705 M used wheel excavator
2005
9500 hours
15.8 tonnes
Spain - Huetor Tajar - Granada

15
Terex TL 80 TL80 used wheel loader
2011
3157 hours
Video
Netherlands - Veghel

5
Terex TR 45 used rigid dumper
2007
6900 hours
Switzerland - Baar / Zug
6

3
Terex CTT 161 A/8 TS16 used tower crane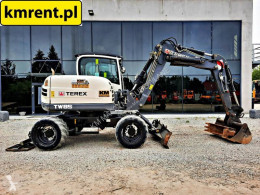 15
Terex TW 85 TW 85 KOPARKA KOŁOWA TW 70 TW 110 LIEBHERR A 308 309 311 CAT 312 JCB JS 130 KOMATSU PW 98 110 118 used wheel excavator
2012
8791 hours
9.1 tonnes
Poland - Milicz
Do you want to tell the seller that you saved the ad?
By ticking "Yes", the seller will get an email with your contact details (name, last name, email address).
PFEIFER HEAVY MACHINERY BV

15 ads

MAQUINARIA BOLDOBA SL

7 ads

KM MASZYNY BUDOWLANE

6 ads

Adamex Spółka Jawna A.K.W. Kosowscy

5 ads

O.B.M. Baumaschinen-Gabelstapler Handels- und Vermietungs GmbH

4 ads

Autopark A5 Nutzfahrzeuge Rossol

3 ads

CIE INTERNATIONAL SARL

3 ads

AERTSSEN TRADING NV

3 ads

TRADELINK SAS DI TORRI CRISTIAN & C

3 ads

Ascendum Maquinaria S.A.U.

2 ads

ECOGLOBAL D INVERSIONS 21, S.L.

2 ads

Baumaschinen Puntigam GmbH

2 ads

Goosmann Baumaschinen GmbH

1 ad

Fischer u. Schweiger GmbH

1 ad

Maropsa - Maquinas alquileres y repuestos para OP SA

1 ad

Barile Nutzfahrzeuge GmbH

1 ad

Bosch Baumaschinen GmbH

1 ad

EGC Parts Baumaschinen Demontagen UG (haftungsbeschränkt) & Co. KG

1 ad

Mpmaquinas unipessoal lda

1 ad

ALGA Nutzfahrzeug- und Baumaschinen GmbH & Co. KG

1 ad

DE BORG TRADING COMPANY BV

1 ad

Las Colinas Cranes and Parts S.L.

1 ad

LEEIJEN TRADING B.V.

1 ad

MAQUIDONAS - Comércio de Veículos Pesados e Ligeiros, Lda.

1 ad

MJC TRUCKS & MACHINERY BVBA

1 ad

MAQUIDEMOLEX ESPAÑA S.L.

1 ad

Truck-Box Spółka Jawna

1 ad

SMK Vermietungs GmbH

1 ad

Valdemar & Filhos, Lda.

1 ad

ÁRIDOS EL ROBLEDO, S.L

1 ad

Troostwijk Veilingen B.V.

1 ad

JAIME LOPEZ MAQUINARIA, S.L.

1 ad

GOMEZ TRADING HOLLAND B.V.

1 ad

HEAVY LIFT ITALIA SRL

1 ad