Liebherr


Liebherr : Used construction equipments from Liebherr
Dealerships, Distributors, Traders & Sellers Liebherr
Other sellers Liebherr
EGC Parts Baumaschinen Demontagen UG (haftungsbeschränkt) & Co. KG

72 ads

Las Colinas Cranes and Parts S.L.

40 ads

Bosch Baumaschinen GmbH

32 ads

PFEIFER HEAVY MACHINERY BV

27 ads

CIE INTERNATIONAL SARL

24 ads

BAUMA Vermiet- und Handels GmbH

23 ads

LUPHER Spółka Jawna Import-Export Maszyn i Urządzeń Budowlanych

21 ads

SWENSKA POWERHOUSE

19 ads

AERTSSEN TRADING NV

9 ads

KELVER Machinery & Trucks

9 ads

MEURRENS MACHINERY NV

7 ads

TTS Truck Trade Service GmbH

7 ads

Lvp Cranes Spain SL

7 ads

SMK Vermietungs GmbH

7 ads

Olkop Hurtownia Olejów i Paliw Gabriel Kropkowski

7 ads

Goosmann Baumaschinen GmbH

6 ads

KM MASZYNY BUDOWLANE

6 ads

ECOGLOBAL D INVERSIONS 21, S.L.

6 ads

AMCO Trading & Consulting S. A.

6 ads

MERKANTIL Export-Import GmbH

6 ads

VERHAEGH TRADING B.V.

4 ads

LANGUEDOC MATERIELS

4 ads

CHOGI Mariusz Chodorowski

4 ads

Baumaschinen Puntigam GmbH

4 ads

HEAVY LIFT ITALIA SRL

4 ads

Golec Nutzfahrzeuge GmbH

3 ads

BERGERAT MONNOYEUR FRANCE

3 ads

GEST LEASE INGENIERIE

3 ads

Jaweed GmbH company

3 ads

AN INTERNATIONAL BV

3 ads

Ascendum Maquinaria S.A.U.

2 ads

Werner Haller Baumaschinenhandel

2 ads

GUAINVILLE INTERNATIONAL

2 ads

LEEIJEN TRADING B.V.

2 ads

MAQUIDEMOLEX ESPAÑA S.L.

2 ads

Adamex Spółka Jawna A.K.W. Kosowscy

2 ads

TAFF HEAVY MACHINERY BV

2 ads

Talleres Dozer 2000 SL

2 ads

PC MACCHINE MOVIMENTO TERRA

2 ads

STRIMAK Baumaschinen & Kfz GmbH

1 ad

Infa Nutzfahrzeuge GmbH

1 ad

O.B.M. Baumaschinen-Gabelstapler Handels- und Vermietungs GmbH

1 ad

Marzi Baumaschinen GmbH

1 ad

ALGA Nutzfahrzeug- und Baumaschinen GmbH & Co. KG

1 ad

EXIM MAQUINARIA, SL.

1 ad

SATABO TRUCKS di TAMPOS Athanasios

1 ad

DE BORG TRADING COMPANY BV

1 ad

BSS heavy machinery GmbH

1 ad

Juben Maquinaria S.L.

1 ad

MJC TRUCKS & MACHINERY BVBA

1 ad

SAS MERCIER AUTOMOBILES

1 ad

Equipos Bergantiños, S.L.U.

1 ad

Salzgitter EuroLogistik GmbH

1 ad

Zeppelin Baumaschinen GmbH

1 ad

Kiesel Worldwide Machinery GmbH

1 ad

TRADELINK SAS DI TORRI CRISTIAN & C

1 ad

LIQUIDATION WORLD SL

1 ad

Rudolf Komes Baumaschinen

1 ad

GOMEZ TRADING HOLLAND B.V.

1 ad

Gschlecht Landtechnik

1 ad

LANDBOUWTECHNIEK BRAAKMAN

1 ad

PHU Karetina Agnieszka Wilczyńska

1 ad
---
Liebherr, company born in the 1940s, is a specialist in the conception, manufacturing and sale of materials for construction sites. If the company is known for its mobile tower crane, it soon diversified by perfecting other machines : hydraulic excavators, wheel or track loaders, bulldozers, articulated dumpers or even pipelayers. In addition to the manufacturing of these materials, Liebherr also manufactures most of the important spare parts of their machines such as the engines or hydraulic systems. Today, it is one of the biggest manufacturer of construction equipments and machines.
Find all the new or used materials and spare parts from Liebherr on Europe-construction-equipment.com.
Check the technical sheets LIEBHERR
Latest ads published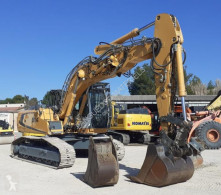 14
NEW
Liebherr R914C HDSL used track excavator
10
Liebherr A 921 used mobile crane
1981
12452 hours
Netherlands - Callantsoog
6
NEW
Liebherr L507 used wheel loader
2009
8766 hours
France - St Feliu D'avall
(66)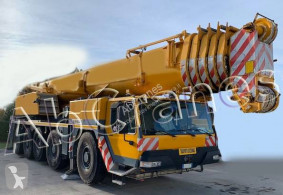 1
Liebherr LTM 1200-1 used mobile crane
2003
12700 hours
Italy - Udine
3
NEW
Liebherr A904 used boom cylinder
France - Bon Encontre
(47)
4
NEW
Liebherr LTM 1070-4.1 used mobile crane
2007
7900 hours
Netherlands - Vianen
2
Liebherr LTM 1095-5.1 used mobile crane
2006
9561 hours
Italy - Trieste
1
NEW
Liebherr r934c-hds used track excavator
2007
14700 hours
Germany - Metten

Do you want to tell the seller that you saved the ad?
By ticking "Yes", the seller will get an email with your contact details (name, last name, email address).
EGC Parts Baumaschinen Demontagen UG (haftungsbeschränkt) & Co. KG

72 ads

Las Colinas Cranes and Parts S.L.

40 ads

Bosch Baumaschinen GmbH

32 ads

PFEIFER HEAVY MACHINERY BV

27 ads

CIE INTERNATIONAL SARL

24 ads

BAUMA Vermiet- und Handels GmbH

23 ads

LUPHER Spółka Jawna Import-Export Maszyn i Urządzeń Budowlanych

21 ads

SWENSKA POWERHOUSE

19 ads

AERTSSEN TRADING NV

9 ads

KELVER Machinery & Trucks

9 ads

MEURRENS MACHINERY NV

7 ads

TTS Truck Trade Service GmbH

7 ads

Lvp Cranes Spain SL

7 ads

SMK Vermietungs GmbH

7 ads

Olkop Hurtownia Olejów i Paliw Gabriel Kropkowski

7 ads

Goosmann Baumaschinen GmbH

6 ads

KM MASZYNY BUDOWLANE

6 ads

ECOGLOBAL D INVERSIONS 21, S.L.

6 ads

AMCO Trading & Consulting S. A.

6 ads

MERKANTIL Export-Import GmbH

6 ads

VERHAEGH TRADING B.V.

4 ads

LANGUEDOC MATERIELS

4 ads

CHOGI Mariusz Chodorowski

4 ads

Baumaschinen Puntigam GmbH

4 ads

HEAVY LIFT ITALIA SRL

4 ads

Golec Nutzfahrzeuge GmbH

3 ads

BERGERAT MONNOYEUR FRANCE

3 ads

GEST LEASE INGENIERIE

3 ads

Jaweed GmbH company

3 ads

AN INTERNATIONAL BV

3 ads

Ascendum Maquinaria S.A.U.

2 ads

Werner Haller Baumaschinenhandel

2 ads

GUAINVILLE INTERNATIONAL

2 ads

LEEIJEN TRADING B.V.

2 ads

MAQUIDEMOLEX ESPAÑA S.L.

2 ads

Adamex Spółka Jawna A.K.W. Kosowscy

2 ads

TAFF HEAVY MACHINERY BV

2 ads

Talleres Dozer 2000 SL

2 ads

PC MACCHINE MOVIMENTO TERRA

2 ads

STRIMAK Baumaschinen & Kfz GmbH

1 ad

Infa Nutzfahrzeuge GmbH

1 ad

O.B.M. Baumaschinen-Gabelstapler Handels- und Vermietungs GmbH

1 ad

Marzi Baumaschinen GmbH

1 ad

ALGA Nutzfahrzeug- und Baumaschinen GmbH & Co. KG

1 ad

EXIM MAQUINARIA, SL.

1 ad

SATABO TRUCKS di TAMPOS Athanasios

1 ad

DE BORG TRADING COMPANY BV

1 ad

BSS heavy machinery GmbH

1 ad

Juben Maquinaria S.L.

1 ad

MJC TRUCKS & MACHINERY BVBA

1 ad

SAS MERCIER AUTOMOBILES

1 ad

Equipos Bergantiños, S.L.U.

1 ad

Salzgitter EuroLogistik GmbH

1 ad

Zeppelin Baumaschinen GmbH

1 ad

Kiesel Worldwide Machinery GmbH

1 ad

TRADELINK SAS DI TORRI CRISTIAN & C

1 ad

LIQUIDATION WORLD SL

1 ad

Rudolf Komes Baumaschinen

1 ad

GOMEZ TRADING HOLLAND B.V.

1 ad

Gschlecht Landtechnik

1 ad

LANDBOUWTECHNIEK BRAAKMAN

1 ad

PHU Karetina Agnieszka Wilczyńska

1 ad