Dealerships, Distributors, Traders & Sellers Haulotte
Rothlehner Arbeitsbühnen GmbH

12 ads

CENTRO ELEVATORI SRL

10 ads

COMERCIAL CEMA S.L.

7 ads

HS-Rental GmbH & Co KG

6 ads

Abrantes Almeida e Simoes Lda

5 ads

Juben Maquinaria S.L.

5 ads

Loutz Chariots Elevateurs

4 ads

MANAIN ELEVACIÓ S.L.U

4 ads

ALGA Nutzfahrzeug- und Baumaschinen GmbH & Co. KG

3 ads

ALQUIVEN MAQUINARIA 2000, S.L

3 ads

O.B.M. Baumaschinen-Gabelstapler Handels- und Vermietungs GmbH

2 ads

Mpmaquinas unipessoal lda

2 ads

ILE DE FRANCE MANUTENTION

1 ad

Ximo Magalló & Cía., S.A.

1 ad

MAQUIDONAS - Comércio de Veículos Pesados e Ligeiros, Lda.

1 ad

KM MASZYNY BUDOWLANE

1 ad

AMCO Trading & Consulting S. A.

1 ad

LIQUIDATION WORLD SL

1 ad

JAIME LOPEZ MAQUINARIA, S.L.

1 ad

Baumaschinen Puntigam GmbH

1 ad

Gam Alquiler - Mexico

1 ad

Gam Alquiler - Republicá Dominicana

1 ad

OTTEN MACHINES GENNEP

1 ad

MHE INTERNATIONAL TRADING BV

1 ad
---
Haulotte Group is a French company that manufactures and sells lifting materials for loads and people in the handling industry. Called Pinguely at first, then Pinguely-Haulotte in 1979, the company has been named Haulotte Group since 2005.
At the beginning, the group manufacturers truck cranes then they enlarge their activity with the sale of other materials: telescopic handlers, scaffoldings or supporting structures but mostly aerial platforms. The uniqueness of Haulotte is in the diversity and versatility of these platforms. Indeed, the aerial platforms can be articulated or telescopic or even self-propelled and they can reach very high heights in order to meet the needs of profesionnals. Thanks to their diversified offer, Haulotte increases its international notoriety over th years. Today it is located in over 30 countries especially in the USA, China and in Australia.
You can find all the materials and spare parts from Haulotte on our website Europe-construction-equipment.com: mobile crane, drilling rig, etc.
Latest ads published
10
Haulotte HT23RTJ O aerial platform used telescopic self-propelled
FRANCE -

Nord

- Escaudain
10
Haulotte HA 12 CJ+ aerial platform new articulated self-propelled
FRANCE -

Nord

- Escaudain
10
Haulotte HA20LE PRO aerial platform new articulated self-propelled
FRANCE -

Nord

- Escaudain
4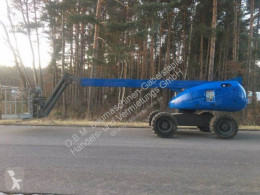 Haulotte H16TPX aerial platform used articulated self-propelled
O.b.m. Baumaschinen-gabelstapler Handels- Und Vermietungs Gmbh
10
Haulotte HA 32 PX aerial platform used telescopic articulated self-propelled
10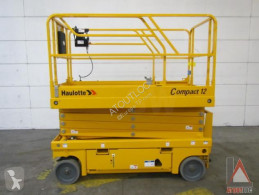 Haulotte COMPACT 12 aerial platform new Scissor lift self-propelled
FRANCE -

Nord

- Escaudain
10
Haulotte Compact 8 aerial platform used Scissor lift self-propelled
FRANCE -

Nord

- Escaudain
10
Haulotte HA 12 CJ+ aerial platform new articulated self-propelled
FRANCE -

Nord

- Escaudain
Rothlehner Arbeitsbühnen GmbH

12 ads

CENTRO ELEVATORI SRL

10 ads

COMERCIAL CEMA S.L.

7 ads

HS-Rental GmbH & Co KG

6 ads

Abrantes Almeida e Simoes Lda

5 ads

Juben Maquinaria S.L.

5 ads

Loutz Chariots Elevateurs

4 ads

MANAIN ELEVACIÓ S.L.U

4 ads

ALGA Nutzfahrzeug- und Baumaschinen GmbH & Co. KG

3 ads

ALQUIVEN MAQUINARIA 2000, S.L

3 ads

O.B.M. Baumaschinen-Gabelstapler Handels- und Vermietungs GmbH

2 ads

Mpmaquinas unipessoal lda

2 ads

ILE DE FRANCE MANUTENTION

1 ad

Ximo Magalló & Cía., S.A.

1 ad

MAQUIDONAS - Comércio de Veículos Pesados e Ligeiros, Lda.

1 ad

KM MASZYNY BUDOWLANE

1 ad

AMCO Trading & Consulting S. A.

1 ad

LIQUIDATION WORLD SL

1 ad

JAIME LOPEZ MAQUINARIA, S.L.

1 ad

Baumaschinen Puntigam GmbH

1 ad

Gam Alquiler - Mexico

1 ad

Gam Alquiler - Republicá Dominicana

1 ad

OTTEN MACHINES GENNEP

1 ad

MHE INTERNATIONAL TRADING BV

1 ad