Contact seller
+49 (0)020 37 13 68 7612
Send an email
Company Mini & Mobile Cranes Körner GmbH
Alte Kaserne 23
47249
Duisburg
Germany
Seller on Europe-Construction-Equipment.com since 4 years
Characteristics - New Unic mini spydercrane B-506-5.1
Crane Mini-crane
Motor

Engine make
-
Engine range
-
Engine power
-
Stage norm
-
Tier norm
-
Characteristics Unic B-506-5.1

Maximum lifting capacity
5 Tonnes
Additional information Unic B-506-5.1

CO2 emissions
-
Boom size
15.71 metres
Serial number
-
Notes
Miniraupenkran UNIC B-506-5.1 (NEUGERÄT )
CE 2019

Technische Daten:

max. Traglast 5,0 t x 2,0 m
max. Arbeitsradius 15,40 m (16,5 m mit HAV)
max. Hakenhöhe 16,0 m (19,0 m mit HAV)
Abmessungen 4.870 x 1400 x 2035 mm
Gesamtgewicht 4.990 kg
voll hydraulischer Teleskopausleger 3,93 - 15,71 m
3-rolliger Spezialauslegerkopf mit Aufnahmevorrichtung für HAV Spitzenausleger 3,0 m (HAV) mit Kopfrolle, max. Traglast 850 kg (Arbeitswinkel 0°, 20°, 40°, 60°) Montagespitze 1,00 - 1,50 m mit Kopfrolle,
max. Traglast 1.700 kg (Arbeitswinkel 5°/20°)
Diesel-Motor Mitsubishi 18 kW (24,5 PS)
ELEKTROANTRIEB 380 Volt
FUNKFERNSTEUERUNG
LASTMOMENTBEGRENZER
Hakenflasche 3-rollig Hakenflasche 1-rollige Hakenflasche, Einseilhaken (Bommel)

Zustatzausstattung:
- nicht-markierende Ketten
- Drehbereichsbegrenzung,

ideal einsetzbar für beschränkte Arbeitsbereiche oder beengte Zugänge zum Arbeitsbereich und eine intelligente Lösung und Alternative zum herkömmlichen Mobilkran (Großkran) Wir bieten Ihnen je nach Anforderung verschiedene Minikranmodelle mit Traglasten von 0,99 - 10,0 t und Hubhöhen bis max. 31,0 m und unterschiedlichen Ausstattungen. Alle unsere Minikran sind im Standard mit einer Funkfernsteuerung ausgestattet.
Gebrauchte Minikrane auf Anfrage bis 7,5 t.
Bitte besuchen Sie unsere Minikran-Internetseite: UNIC Minikrane Deutschland, Generalimporteur

Englisch:

Mini crawler crane UNIC B-506-5.1 (BRANDNEW)
CE2019

Technical details:

max. Lifting capacity 5,0 t x 2,0 m
max. working range 15,4 m (16,5 m with Jib)
max. hook height 16,0 m (19,0 m with Jib)

4.870 X 1.400 x 2.035 mm
weight 4.990 kg

Crane equipment:
3,93 - 15,71 m telescopic main boom, fully hydraulic
3,0 m swing away jib with sheave head, max. 850 kg (angle 0°, 20°, 40°, 60°)
1,0 m - 1,5 m heavy load jib with sheave head, max. 1.7 t (angle 5°/20°)
1x winch
360° slewing range unlimted
Diesel-engine 18 kW (24,5 PS)
Electric engine 380 V, 7,5 kW power
Radio Remote Control
Safe Load Indicator System Rayco Wylie i4500 with display
black rubber tracks
working light
Driver seat with Operation panel
hook block 3-sheave with 5,0 t Lifting capacity
hook block 1-sheave with 1,7 t Lifting capacity
single line hook with 900 kg Lifting capacity

Additional equipment on request:
- Non marking rubber tracks
- working area limitation

PURCHASE PRICE ON DEMAND

You are welcome to inspect our mini cranes at our site in Duisburg, Germany any time. Just arrange in advance an appointment with us . We are the official German Distributor for UNIC mini cranes and have always used UNIC mini cranes in different Lifting capacities (2,9 - 7,5 t) for sale. Just ask us. Please visit our Website: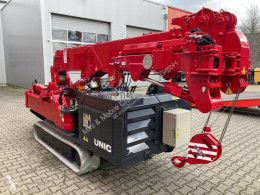 You are interested in this vehicle ?
Don't wait any longer, get in touch with the company Mini & Mobile Cranes Körner GmbH to know more right now !