Characteristics - New One-TP tiltable ditch cleaning bucket godet GHD à grappin
Machinery equipment Bucket
Notes

ONE-TP, spécialiste en équipements pour engins tp vous propose :

gamme très complète de godets Grande Hauteur de Déversement (GHD) pour tous porteurs et pour différentes densités de matériaux.

Montage direct ou pour attache rapide à préciser.
Vérins près des flancs, ou au milieu du godet pour un poids réduit et une plus grande capacité.
Type de matériaux/densité à préciser.

Option possible avec grappin.

Nous consulter pour étude en fonction de votre chargeuse et des matériaux, caractéristiques techniques et offre de prix.

Un plan est systématiquement fourni par notre bureau d'éudes pour approbation avant mise en production.

Demandez le catalogue complet ONE-TP 2016 (avec tous les tarifs), et vous pourrez comparer avec d'autres, les meilleurs rapports qualité/prix pour chacun de vos achats de matériels.

ONE-TP traite avec les plus grandes usines Européennes dans chaque domaine, nous proposons plus de 80 familles de matériels pour le terrassement, vrd, bâtiment, démolition, carrière, recyclage, industrie, manutention et forestier/espaces verts…

ONE-TP, est situé dans l'Oise en Picardie à Chaumont-en-Vexin, et nos commerciaux se déplacent sur la France entière lors de leurs tournées par régions…

-Prochain salon de ONE-TP : CONEXPO Las Vegas du 07 au 11 Mars 2017.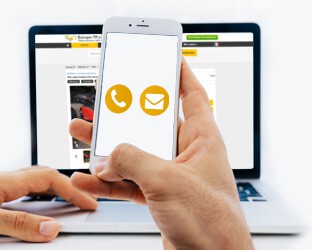 Interested in this ad?
Don't wait any longer, get in touch with the company One-TP to know more right now !