Characteristics - Used Kobelco crawler crane 5055A
Crane Crawler crane
Main information
Client ref. :
07537eab28927c3f
Website ref. :
2949439
Bodywork
Crawler crane
Make

Kobelco

Model
5055A
Condition
used
Year
--
Characteristics Kobelco 5055A
Maximum lifting capacity
-
Number of hours
8677 hours
Motor
Engine make
-
Engine range
-
Engine power
-
Stage norm
-
Tier norm
-
Notes
Grue sur chenilles Kobelco 5055A d'occasion

GARANTIE: Protégé par la GARANTIE SATISFAIT OU REMBOURSÉ d'Equippo - Essayez cette machine sur votre chantier pendant 5 jours et renvoyez-la pour un REMBOURSEMENT COMPLET, si vous n'êtes pas satisfait.

DÉTAILS DE L'ÉQUIPEMENT:
CONFIGURATION:
POIDS: 52.2 Tonnes
GODET
- Godet: Non
FLÈCHE
- Type de flèche: Mono
- Condition de l'acier: ok → Beaucoup de réparation de bosses et de soudures
- Soudé: imperfection
- A éclisse: ok
- Fissuré: ok
- Cylindre: ok
- Attaches & douilles: ok → Jeu moyen
INSPECTION DES SOUPAPES
- Clapets anti-retour de la flèche: Non
- Clapets anti-retour du balancier: Non
CABINE
- Type de cabine et air conditionné: Cabine
PATINS
- Type de patins: Barre à simple arrête
- Largeur du patin: 760 mm
GÉNÉRAL
- État général: ok → Un crochet, en bon état, les treuils et les freins du treuil sont opérationnels, mais les deux sont usés, les poulies sont usées, certaines sont ébréchées, les cordes sont en bon état.
INTÉRIEUR CABINE
- Propreté: ok
- État du siège: ok
- Fenêtres: imperfection → Fente sur la vitre latérale gauche
- Commutateurs: ok
- Jauges: ok
- Porte de la cabine: ok
- Essuie-glace: imperfection → Ne fonctionne pas
- Tapis de sol: défaut → Plancher en acier
- Structure: ok → L'unité est peinte au pinceau.
MOTEUR
- Niveau de fumée normal: imperfection → Un peu de fumée sur l'accélérateur à froid
- Niveau de fluide normal: ok
- Bruits normaux du moteur: ok
- Pas de fuite de moteur: ok → Une certaine pression
- Condition des courroies: ok
- Système de refroidissement: ok
- État de l'huile: ok
- Échappement: ok
- Pas de fuites au niveau du moteur: imperfection → Résidu à deux buses, résidus d'huile mouillés sur tout le carter d'huile
HYDRAULIQUE
- Pompe hydraulique: ok
- Blocage de vanne: imperfection → Certains tuyaux ont des fuites sur
- Couronne: ok
- Moteur pivotant: ok
TRAIN DE ROULEMENT
- Patins: imperfection (30 %)
- Roue folle: défaut (10 %)
- Galet supérieur: défaut (20 %)
- Galet inférieur: défaut (10 %) → 0-10% bon
- Barbotin: défaut (0 %)
STRUCTURE SUR CHENILLE
- Condition du moteur d'entraînement: ok
- Condition du cadre d'entraînement: ok
ENTRAÎNEUR
- État de la carosserie: ok → Il manque une tôle d'acier sous couverture
TEST FONCTIONNEL
- Attaches du godet: imperfection → Jeu moyen
- Bruits de pompe: ok
- Jeu dans la couronne de pivotement: imperfection → Jeu perceptible
- Électricité: ok
- Groupe motopropulseur: ok
COMPTEUR HORAIRE
- Relevé du compteur horaire: 8677 → Les heures et l'état peuvent être modifiés.
- Compteur horaire inspecté: ok
- Méthode d'inspection: par l'inspecteur
CERTIFICATIONS
- Certification CE: Non
- Certification EPA: Non

COMMENTAIRE DE l'INSPECTEUR: Pour l'âge, l'état est acceptable, les heures de travail et l'état peuvent être modifiés.

VISITEZ NOTRE SITE INTERNET, EQUIPPO, pour voir PLUS DE PHOTOS ainsi que tous les détails de notre RAPPORT DE CONDITIONS complet.Used Kobelco 5055A tracked crane

GUARANTEE: Protected by Equippo's MONEY BACK GUARANTEE - Try this machine at your jobsite for 5 days and return it for a FULL REFUND, if you're not satisfied.

EQUIPMENT DETAILS:
CONFIGURATION:
WEIGHT: 52.2 Tons
BUCKET
- Bucket: No
BOOM
- Boom type: Mono
- Steel condition: ok → Lot of dent and weld repair
- Welded: imperfection
- Fishplated: ok
- Cracked: ok
- Cylinder: ok
- Pins & bushings: ok → Medium play
CHECK VALVES
- Check valves boom: No
- Check valves stick: No
CAB
- Cab type and A/C: Cab
PADS
- Pads type: Single grouser bar
- Pad width: 760 mm
OVERALL
- Overall condition: ok → One hook, in fair condition. Winches and winch brakes are operational, but both are worn. Pulleys are worned out, some are chipped. Ropes are in fair condition
CABIN INTERIOR
- Cleanliness: ok
- Seat condition: ok
- Windows: imperfection → Crack on left side window
- Switches: ok
- Gauges: ok
- Cab door: ok
- Wiper: imperfection → Not working
- Floor mat: issue → Steel floor
- Structure: ok → Unit is brush painted.
ENGINE
- Normal smoke level: imperfection → Some smoke on cold throttle
- Normal fluid level: ok
- Normal engine noises: ok
- No engine blow by: ok → Some pressure
- Belts condition: ok
- Cooling system: ok
- Oil condition: ok
- Exhaust: ok
- No engine leaks: imperfection → Residue at two nozzles, wet oil residue all over the oil pan
HYDRAULICS
- Hydraulic pump: ok
- Valve block: imperfection → Some hoses have leaking on
- Ring gear: ok
- Swivel motor: ok
UNDERCARRIAGE
- Pads: imperfection (30 %)
- Idler: issue (10 %)
- Top roller: issue (20 %)
- Bottom roller: issue (10 %) → 0-10% good
- Sprocket: issue (0 %)
TRACK STRUCTURE
- Track motor condition: ok
- Track frame condition: ok
CARRIER
- Car body condition: ok → Undercover sheet metal is missing
FUNCTIONAL TEST
- Pins bucket: imperfection → Medium play
- Pump noises: ok
- Slew ring play: imperfection → Noticeable play
- Electrics: ok
- Drive train: ok
HOUR METER
- Hour meter reading: 8677 → The hours and the condition could be changed
- Hour meter verified: ok
- Verification method: by inspector
CERTIFICATIONS
- CE marked: No
- EPA marked: No

INSPECTOR COMMENT: For the age, the condition is acceptable. Still working, the hours and the condition could be changed

VISIT OUR WEBSITE, EQUIPPO, to see MORE PICTURES and all the inspection points detailed in our complete CONDITION REPORT.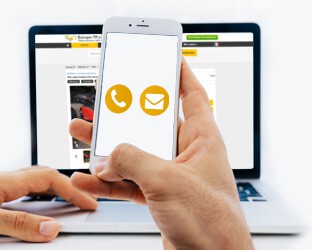 You are interested in this vehicle ?
Don't wait any longer, get in touch with the company
EQUIPPO

AG
to know more right now !