Used excavators

6172 ads of used diggers
▲

Year

▼

▲

km/hr

▼

▲

Price

▼

Company

Country

from last 24 hours

used Komatsu track excavator PC80MR 3

Kent

2012, 1725 hours, 44,161 €

Strood

since 2 hrs.

2012
1725 hours
44,161 €

from last 24 hours

used Komatsu track excavator PC138US8

Kent

2012, 64,643 €

Strood

since 2 hrs.

2012
-
64,643 €

from last 24 hours

used Kubota mini excavator KX36-3

Hertfordshire

2007, 8,262 €

Colney heath

since 8 hrs.

2007
-
8,262 €

from last 24 hours

used Kubota mini excavator KX36-3

Hertfordshire

2007, 8,736 €

Colney heath

since 8 hrs.

2007
-
8,736 €

-48h

used Takeuchi mini excavator TB16

Essex

2009, 3244 hours, 11,821 €

Colchester

since 1 days

2009
3244 hours
11,821 €

-48h

used Takeuchi mini excavator TB16

Essex

2009, 3234 hours, 11,821 €

Colchester

since 1 days

2009
3234 hours
11,821 €

-72h

used Hitachi track excavator ZX130 LCN-3

Bedfordshire

2011, 5100 hours, 53,972 €

Luton

since 2 days

2011
5100 hours
53,972 €

-72h

used Hitachi mini excavator ZX50U-2

Bedfordshire

2006, 4900 hours, 17,495 €

Luton

since 2 days

2006
4900 hours
17,495 €

-72h

used Yanmar mini excavator VIO45

Bedfordshire

2007, 5900 hours

Luton

since 2 days

2007
5900 hours
-

-72h

used New Holland track excavator E215

Cambridgeshire

2007, 10316 hours, 31,748 €

Alconbury weston

since 2 days

2007
10316 hours
31,748 €

-72h

used Takeuchi mini excavator TB145

Cambridgeshire

2008, 3243 hours, 19,927 €

Alconbury weston

since 2 days

2008
3243 hours
19,927 €

-72h

used Takeuchi mini excavator TB145

Cambridgeshire

2007, 4032 hours, 17,225 €

Alconbury weston

since 2 days

2007
4032 hours
17,225 €

-72h

Cambridgeshire

2010, 2872 hours, 25,662 €

Alconbury weston

since 2 days

2010
2872 hours
25,662 €

-72h

used JCB mini excavator 8025 ZTS

Cambridgeshire

2013, 1485 hours, 21,278 €

Alconbury weston

since 2 days

2013
1485 hours
21,278 €

-72h

used Komatsu track excavator PC210 LC-8

Cambridgeshire

2007, 11349 hours, 35,119 €

Alconbury weston

since 2 days

2007
11349 hours
35,119 €

-72h

used Komatsu track excavator PC130-6K

Cambridgeshire

2004, 20,603 €

Alconbury weston

since 2 days

2004
-
20,603 €

-72h

used Doosan track excavator DX140 LCR

Somerset

2012, 5483 hours, 64,172 €

Bridgwater

since 2 days

2012
5483 hours
64,172 €

-72h

used Doosan mini excavator DX 60

Somerset

2010, 3105 hours, 31,005 €

Bridgwater

since 2 days

2010
3105 hours
31,005 €

-72h

used Doosan mini excavator DX 80

Somerset

2013, 1143 hours, 53,972 €

Bridgwater

since 2 days

2013
1143 hours
53,972 €

-72h

used Doosan mini excavator DX 80

Somerset

2013, 1683 hours, 53,972 €

Bridgwater

since 2 days

2013
1683 hours
53,972 €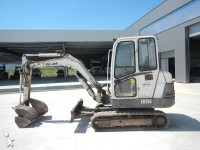 Excavator picture
An excavator, also known as digger or mechanical shovel is a piece of construction equipment used for public works. The main usages of an excavator are digging and material handling.
Excavators are generally composed of an undercarriage (tracked or wheeled), a power unit, a cab and a bucket triggered by an articulated boom. A huge range of accessories can be added, like a grapple, a hydraulic breaker or shears.
The hydraulic mechanical shovel was invented at the end of the 19th century and replaced the cable shovel, which is nowadays much less popular.
There are many types of excavator, depending on their purpose: mini excavators suited for smaller works, walking excavators for hilly terrain, demolition excavators or the most important, mining excavators.
Europe Construction Equipment is a classified ads website for new, used or damaged machinery
Market place between sellers and buyers (buy / sell / long-term rental) of the construction equipment world.
Europe Construction Equipment is a classified ad portal dedicated to used construction equipments and excavators (from spare parts to bulldozers) : excavators, cranes, loaders, backhoe loaders, bulldozers, dumpers, rollers, crushing sieving equipments, etc. Find all the makes of used excavator and all types of used excavator.
Other Websites of the Group:
Planet Trucks

Europe Construction Equipment

Used construction equipment for sale

Europe Forklift
Attention ! You can not add anymore ads to your watchlist.