Used excavators
5,083 ads of used diggers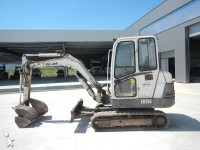 Excavator picture
An excavator, also known as digger or mechanical shovel is a piece of construction equipment used for public works. The main usages of an excavator are digging and material handling.
Excavators are generally composed of an undercarriage (tracked or wheeled), a power unit, a cab and a bucket triggered by an articulated boom. A huge range of accessories can be added, like a grapple, a hydraulic breaker or shears.
The hydraulic mechanical shovel was invented at the end of the 19th century and replaced the cable shovel, which is nowadays much less popular.
There are many types of excavator, depending on their purpose: mini excavators suited for smaller works, walking excavators for hilly terrain, demolition excavators or the most important, mining excavators.
---
Europe-Construction-Equipment.com is a classified ads website for new, used or damaged machinery
Market place between sellers and buyers (buy / sell / long-term rental) of the construction equipment world.
Europe-Construction-Equipment.com is a classified ad portal dedicated to used construction equipment and excavators (from spare parts to bulldozers) : excavators, cranes, loaders, backhoe loaders, bulldozers, dumpers, rollers, crushing sieving equipment, etc. Find all the makes of used excavator and all types of used excavator.
Other Websites of the Group: