Used excavators
4,625 ads of used diggers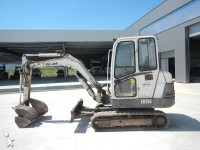 Excavator picture
Excavators, also called shovels or diggers, are construction equipment used in levelling work. During earthmoving operations, excavators allow the operator to dig the ground and to extract earth and rubble from it. Depending on the attachments, they can also drill the ground, handle materials or cut scrap iron.
An excavator is composed of a chassis, mounted on track or wheels, a power unit, a house and of an articulated arm, which is composed of a boom and a dipper. Often equipped with a shovel dipper, the arm may benefit from a large variety of attachments: auger, hydraulic breaker, grapple, shears, grab bucket or sorting grapple… They are attached to the stick thanks to the bucket linkage which may be mechanical or hydraulic.
Crawler excavators are the most powerful models. We can find among them mining excavators which are the biggest existing excavator models. Wheel excavators are easier to handle but less powerful. As for compact excavators are used on small construction sites and often used by private individuals. Some excavators have been conceived for specific uses: handling excavators (to manipulate waste or scrap iron), demolition excavators (equipped with specific tools and with a long reach stick), road-rail excavators (to work on railway), and walking excavators (to work on sloping grounds or in mountains).
Finalized at the end of the 19th century, hydraulic excavators have replaced power shovels less used nowadays.
On Europe-Construction-Equipment.com, visit used excavator ads from Cat, Komatsu, Hitachi, Volvo, Liebherr, Doosan and JCB.
---
Europe-Construction-Equipment.com is a classified ads website for new, used or damaged machinery
Market place between sellers and buyers (buy / sell / long-term rental) of the construction equipment world.
Europe-Construction-Equipment.com is a classified ad portal dedicated to used construction equipment and excavators (from spare parts to bulldozers) : excavators, cranes, loaders, backhoe loaders, bulldozers, dumpers, rollers, crushing sieving equipment, etc. Find all the makes of used excavator and all types of used excavator.
Other Websites of the Group: