The latest in machines and construction equipment news
The equipments of the new Caterpillar 745 dumper
03/27/2017 10:56:15 am
03/27/2017 10:56:15 am
The latest in machines and construction equipment news
Caterpillar
Caterpillar adds to its dumper range with the launch of the new model, the 745, with a useful load of 41 tonnes (45,2 US t ). The machine stands out with a new generation cab and features made for construction operators.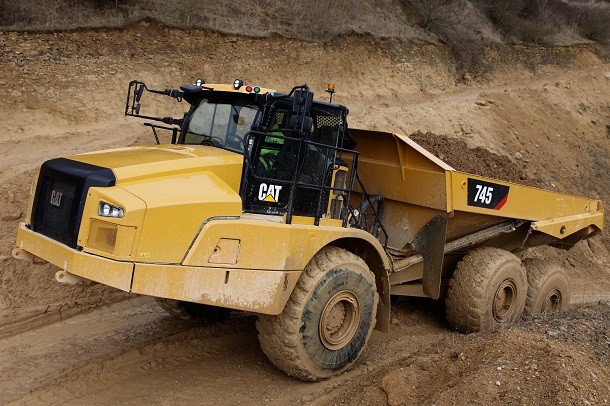 A completely redesigned cab

The make has completely been redesigned the operator's space after getting reviews from users.
The cab is made to improve the comfort and the driver's health (increased visibility, noise reduction, anti dust). There also is a heated and ventilated seat. The windows are treated for infra-red light to reduce the heat of the sun.
New innovative commands

The use of a dumper needs precision. The driver has to have the commands close by.
In this model, the commands are at the center and can be used from a tactile screen. Several features (speed, tipper lift..) can be activated with a joystick. Thus, the driver can automate a maximum of actions in order to optimise his daily work.
New on-baord management systems avoids the machine from tipping  (Cat Detect system with Stability Assist) or the wheel slip.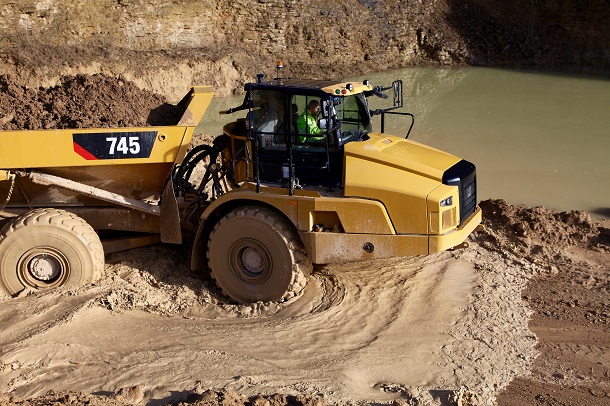 What are the advantages for companies ?

All the control and vision systems reduces the health risks for the driver. The engine will also be equipped with a security system, which will reduce the breakdowns and thus the maintenance costs.
This dumper was designed like the famous C series and has the same performances but an improved fuel consumption with its economic mode.
With these innovations, this machine should seduce operators and will reassure by its safety and productivity on different construction sites.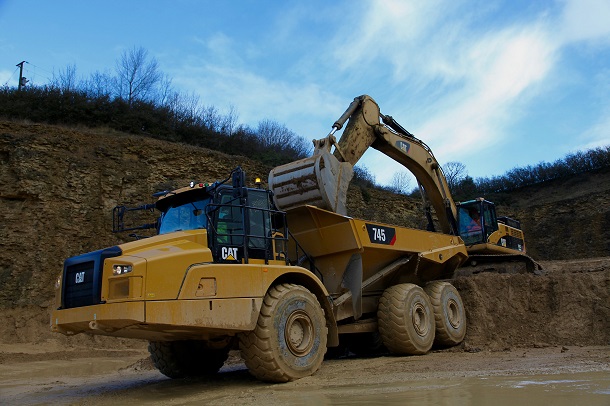 Characteristics of the Caterpillar 745 articulated dumper 
| | |
| --- | --- |
| Engine | C13 ACERT Cat |
| Net ma. power 1 700 tr/min | 375 kW |
| Operating weight | 74 tonnes |
| Useful load | 41 tonnes |
| Axle numbers | 3 |