The latest in machines and construction equipment news
The Liebherr D9812 engine won « Diesel of the Year 2017 »
03/14/2017 04:17:35 pm
03/14/2017 04:17:35 pm
The latest in machines and construction equipment news
Liebherr
During the 30th Samoter exhibit, the "Diesel of the Year 2017" has been awarded to Liebherr Components for their new D9812 engine. This prize validates the manufacturer's reputation as an expert in machine manufacturing for the construction industry.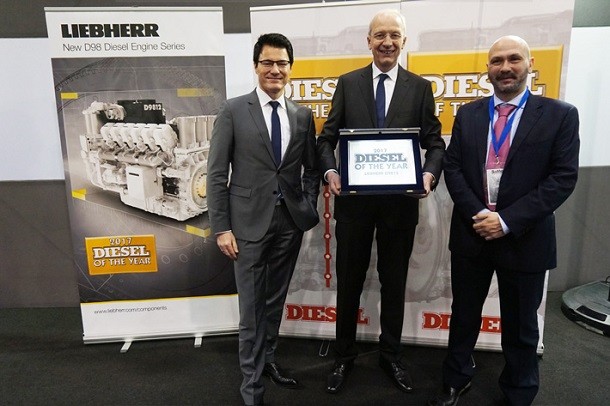 A powerful V12 that extends the Liebherr diesel range
With the launch of this new engine featuring the maximum power output of up to 2,700kW, and 2,013kW, the manufacturer develops the D98XX range, which includes the fifth series into its diesel engines portfolio. With this new project, Liebherr is always trying the meet the needs of the construction industry and adapts the materials. The next launch of the V16 and V20-cylinder engines from the D98XX range, the Liebherr diesel engine portfolio will cover a power range from 200kW to 4,500kW.
A very high performance for a productivity with lower costs
In a press release, the manufacturer explains that all the parts have been made internally, a guarantee of quality. The D9812 has a vertical configuration of the main elements. This specific architecture allows the D9812 to achieve a very high efficiency during operations. It is equipped with a ECU as well as the Common Rail 11.5 fuel injection system. Therefore this system provides an extra low fuel consumption.
Easy maintenance and lower fuel consumption
The other advantage of the Common Rail injection system is a very low fuel consumption. That is one of the main characteristics of the D9812 engine that uses little fuel and limits the CO2 emissions in the air. The engine is strong and its maintenance is made easy.
A modular system for a tailored composition
The D9812 consists of specially-adapted components. It is possible to add elements in order to ensure the machine's optimum performance at the right time. This flexibility of use of this engine in different situations make it a tool able to adapt to all sorts of missions.