The latest in machines and construction equipment news
The Hyundai HL975 loaders, lots of advantages to discover!
02/28/2017 01:47:51 pm
02/28/2017 01:47:51 pm
The latest in machines and construction equipment news
Hyundai prepared the launch of the new wheel loader version. The make took advantage of the Samoter 2017 exhibit from February 22 to 25 in Verona to launch it. This new product with the HL975 reference should satisfy clients around the world. It stands out by its solidity and power.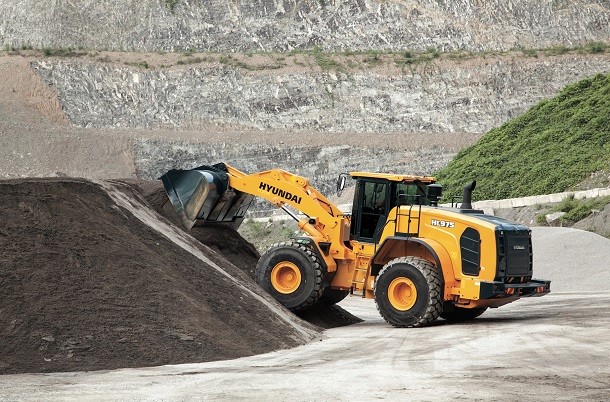 Description of the HL975 loader

Strong, it has a total useful load of 26 500 kg. The brand new Cummins QSG12 Stage IV engine helps it works flawlessly. This engine has maximum 335hp, with 250 kW that develop by 2 100 tr/min. If the client combines this engine to a particle filter, it gives a very satisfying stage IV machine. The outside appearance of this new loader makes it more vigourous, safer and the structure has an important resistance.
Qualities of the Hyundai loader

The use of the HL975 offers lots of positive points. Indeed, this power develops in hostile and dangerous environments. The machine can work with an important power and a high load. Besides, the cab is soundproofed. The operator is protected from outside noises. The heating system heats up or cools the inside of the cab depending on the user's choice. A reduction in tiredness and an increase in productivity come from the electro-hydraulic controlled power-shift. Indeed, this handle helps with an easier use of the equipments. The cab's seat can be adjusted to the operator's size. Moreover, the cab offers more comfort to the operator thanks to the silence, the safety and the additional surface.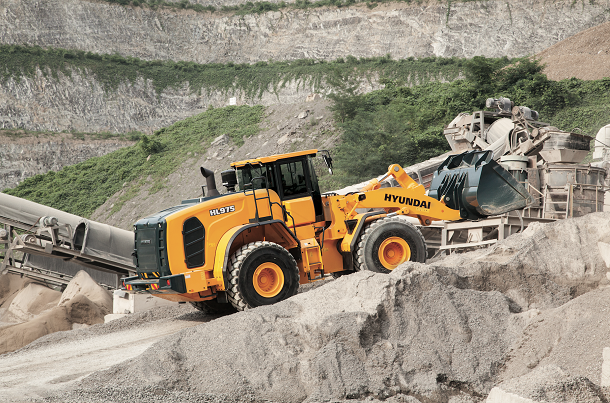 Contribution to the environment

When working slow, the engine stops. This limits the fuel's consumption. Besides, a better fuel management is possible with the 5-gear gearbox with a clutch that can be locked. A maximum speed control on the model can limit the speed to 20 or 40 km/h regarding the use. When the machine works, the wheels don't skid because of the and a differential lock with electro-hydraulic control. It works on productivity and control the fuel use.
A loader with technologies
A 7'' tactile screen follows up about the equipments especially when the productivity needs to be increased. This screen is also used for several other important controls. While staying in the cab, the operator can call and get phone calls with a microphone and Bluetooth. There also is possible to have a radio and a Miracast system.