Construction machines manufacturers
Sulphur tolerance kits for the Hyundai excavators and loaders
Construction machines manufacturers
The Korean construction equipment manufacturer announced that sulphur tolerance kits are now available. These kits have been added in order to adapt the machines to markets with less stringent emission regulations and high-sulphur fuel restrictions.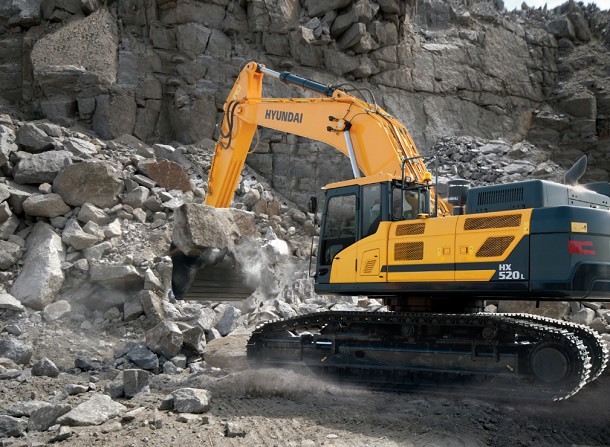 Why sulphur tolerance kits ?

For the HX hydraulic excavators and the HL wheeled loaders, Hyundai offers « die-tiering » kits or « sulphur tolerance kits ». Thus, the different Hyundai distributors can equip their machines before sending them in other countries outside Europe and the USA. Indeed, the EU legislation regarding sulphur in fuels is not the same as in other countries. These directives have been adopted to improve the air quality and reduce the greenhouse gas emissions. In Europe, the sulphur content in fuel should not exceed 10 mg/kg. These rules essentially target diesel used in the engines of bulldozers, excavators, loaders and other construction equipments. All countries don't have the same regulations regarding sulphur content in diesel and this is a problem for clients when resaling the machines (especially in South America and Mexico). 
The Tier 4 engines are specially designed to have fuel with a low sulphur content.  Already used by several manufacturers, this tolerance kit allows the engine to resist a high-sulphur content fuel.
Hyundai helps its clients export their machines
Alain Worp, Sales Director Europe Construction Equipment Division at Hyundai Heavy Industries Europe NV explains that :  "Hyundai excavators and wheeled loaders last for a long time, so it's good that when our customers choose an all-new HX/HL series machine from Hyundai, their previous machines can enjoy a second life in other countries. That's how we can all help to make better use of our natural resources and build a better world. However, to assure that the new owners have the same peace-of-mind when operating their machines, we now offer these engine conversion kits."