Events and Trade Fairs
Hillhead 2016: a large panel of construction equipment
This year, a great number of visitors went to Hillhead exhibition in England from 28 to 30 June 2016 at Buxton, Derbyshire. This exhibit is special because it takes place directly in a quarry which favors construction equipment demonstrations. Despite rainy weather, lots of visitors came to meet manufacturers. Every two years, more than 15,000 people attend this exhibition. The biggest construction equipment brands were there: Hitachi, CASE, Doosan or Kubota. They took advantage of the opportunity to enhance their last quarrying and crushing machines made especially to meet mining and quarrying operators' needs.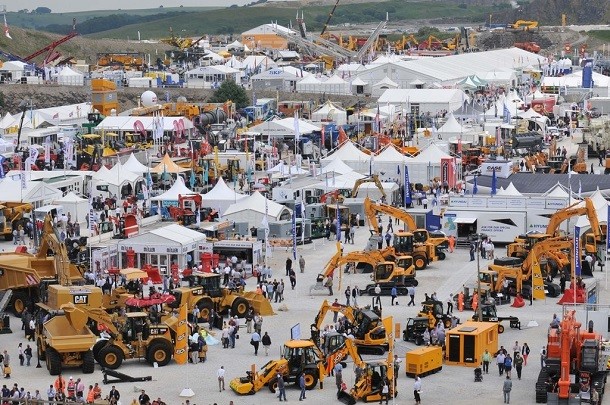 Given their success, the organizing team has already planned to maintain the areas dedicated to demonstrations for Hillhead 2018.
Open-air exhibition key figures
During this 17th edition, 18,349 visitors went to Buxton which represents an increase in visits of 5.4% compared to 2014. Hillhead benefits from a very large outdoor area which allows exhibitors to demonstrate their construction equipment. Hillhead is the specialized exhibition which offers the most direct demonstrations. This way to work is highly appreciated by visitors who are then able to enjoy construction equipment while working.
Hillhead 2016: striking presentations
The exhibiting companies come to England were able to present their latest construction or quarrying machines. Indeed, Hitachi took the opportunity to showcase both its quarrying excavators (ZX870LCR-5B and ZX490LCH-6 models). The American CASE was also attending the exhibit and presented 19 different construction equipment models, mainly its new excavator range: D series (already showcased at Bauma, Germany). As for Bomag, the brand has launched new milling machines and compacting attachments. Doosan came with its latest track excavator (DX530LC-5 and DX255LC-5 models). Finally, Kubota took advantage of the event to exhibit the first mini excavator ever produced by the company in 1979: the KH10 model.