Construction and Public Works
St Gotthard Railway Base tunnel Opening - Switzerland
Construction and Public Works
June 1st 2016 – Switzerland has opened one the world longest tunnel in presence of several heads of state: Angela Merkel, François Hollande and Matteo Renzi. The three presidents were present to highlight the collaboration of the three countries. Swiss media has nicknamed this structure: "tunnel of the century". Its construction took 17 years (from 1999 to 2016) and allows crossing the Swiss St Gotthard massif.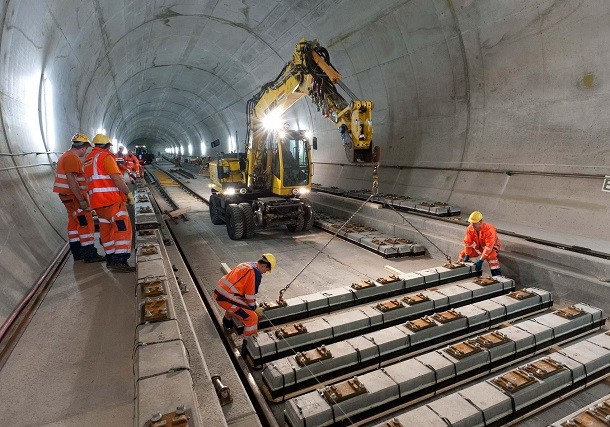 Exceptional figures for an outstanding construction
Concrete mixers and crushers worked day and night during many years to build this railway tunnel. Moreover, it is not only the longest tunnel in the world but also the deepest one. It crosses the Swiss mountain range at a depth of 2,500 meters (approximatively 7,500 ft).
The tunnel connects the cities of Lugano in Italy and Erstfeld in Germany. From now on, the train journey between Zurich and Milano will only last 2:40 hours compared to 3:40 hours before, thanks to this opening in the mountain.
Its length is worth 57km and is composed of two railway tubes and a 151-km long service tunnel. The tunnel construction necessitated a huge work from 2,600 people.
The opening suffered from many technical difficulties and cost CHF 12.2 billion (10.9 billion Euros). The entire investment was made by Switzerland. This tunnel will essentially be used for railway transport. The speed of cargo trains could reach 160km/h.
The past six years were dedicated to interior installation, security infrastructure constructions and to connect cross tubes. Eventually, 3,000 European companies were involved to bring this project to fruition.
Key

dates

of the St Gotthard tunnel
Entirely financed by Switzerland, this project was voted by referendum in 1992. In 1997 began the excavation of tubes. The opening was operated in 1999 at the two ends (Northern and Southern) and both the teams met each other at the middle 2010. On June 1st 2016 the inauguration ceremony occurred. The tunnel will open in December 2016.