The latest in machines and construction equipment news
Brand New Engcon Riddle Buckets
The latest in machines and construction equipment news
Engcon manufactures tiltrotators and hydraulic excavator attachments from 1.5 to 32 tons. This worldwide company offers a wide range of excavator equipment. In May 2016, the firm launched brand new riddle buckets. This attachments dedicated to excavators are already available to delivery. These buckets can match every excavator size.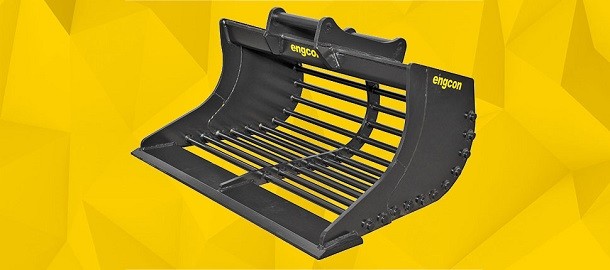 Engcon : Company Specialized in Excavator Equipment
Engcon offers essentially tiltrotactors for hydraulic excavators. However, it is also specialized in excavator attachments and tools. Thanks to its worldwide network, Engcon ensures the installation, maintenance, and after-sales service of its products in many countries.
A perfect bucket for

light works
Riddle buckets are perfect to supply construction sites with specific materials. These one allow small elements to be separated from big stones, for example. The Engcon engineer Johan Johansson describes its product as the "new riddle bucket derived of the very popular ditch cleaning bucket" that they sell since 2008.
Mister Johansson also says that instead of a closed bottom, the riddle bucket is composed of circular shafts of steel. These shafts are very robust and support a heavy weight. Moreover, the space between shafts may be different from buckets, depending on their use.
Engcon offers a 30-mm separation between each shaft for the smallest buckets and a separation up to 70 mm for the biggest ones. The brand proposes 12 different sizes. Indeed, the bucket size depends on the excavator because its size can differ between 900 mm for the smallest ones and 2,000 mm for the biggest ones.